The maidens they bowled over
They are the girls every female cricket fan wants to be. But is the life of a cricketer's wife all fun and games? Sandra (Mrs. Sanath Jayasuriya), Sonali (Mrs. Russell Arnold),
Neluni (Mrs. Marvan Atapattu) and Dushyanthi (Mrs. Kumara Dharmasena)
talk of life with their famous husbands.
By Ruhanie Perera and Laila Nasry
Whoever said 'behind every successful man is a woman' sure got his facts right. And it seems the strength of our national cricket team doesn't lie with the 'boys' but with their girls.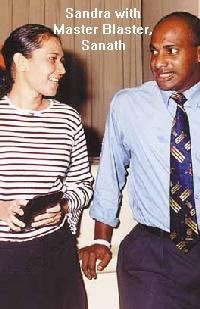 "I collect every single letter, card, anything that comes in the mail for Sanath from his fans. I file them so that when he has the time, he can take a look at them and we try to reply them whenever possible," says Sandra, the bubbly wife of Sri Lankan cricket captain and oh-so-popular Master-Blaster Sanath Jayasuriya. "What's more when he's old, I can pull these out for him to remember the good times. He'll have all the time in the world to read them then," she says with a peal of laughter.
Sandra, who must have broken many hearts when she married Sanath, was always a "big-time cricket fan". "I was an even bigger 'Sanath fan'," she smiles, explaining that she was a fan from the very beginning of his cricket career. She had even got his autograph many years ago never realising that fate would have it that he would 'autograph' their wedding register some day. "I suppose I'm one of the lucky ones whose dream came true."
She's made a career out of encouraging her husband and praying fervently for him. "That done, once I start watching the match I completely shut out the fact that I'm Sanath's wife." Making it for all his matches within the country, or at least catching them on TV and joining him whenever possible on tours abroad Sandra says that the only way she can survive through the match is by pretending she's just another spectator. "I'd just die of sheer nervousness otherwise," she exclaims.
Missing him terribly when he's on tour, Sandra says that she copes by looking on the bright side, keeping herself occupied with her housework and the garden, "and calling him quite a number of times a day. And of course we make the maximum of the time we do spend together, even though it may be short periods."
When the team is away and by chance not doing too well, it's Sandra who has to answers all the phone calls that come in. "I listen to what the fans have to say, but I don't let them influence me. I keep on believing in the team because I know that they are doing their best."
But of course good times or bad, the members of the cricket team are always on the 'Sri Lanka's famous people list', with Sanath heading them all. Sandra feels that, "Sanath handles fame well. He doesn't act as if he's some special kind of person, he acts normal and on occasion when I share in the fame I act the same way taking my cue from him."
I don't watch the first few overs of his batting. I'm so nervous," says Sonali, more often referred to as Mrs. Russell Arnold. "I'm so negative and scared that he will get out because I think he is a slow starter." But there's no doubt, she is his biggest fan.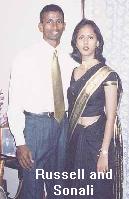 "I don't go for all the matches because I'm working," she says quickly adding that she does listen to the commentaries. "But I try to be there, especially at the local matches." Sonali though, was never a cricket enthusiast. Sitting in the sun for five days at a stretch for a Test match was never her cup of tea. "But now I'm interested because he is playing. I try to go during week-ends and at least for the One Day Internationals."
Sonali, who works as a ticketing, sales and reservations officer at Cathay Pacific, is 'stumped' when it comes to obtaining leave from work to be with Russell on tours abroad. "I have to fight for my leave because I get only 21 days for the entire year." Though she missed the tour to Sharjah, which was just after her marriage, she did manage to make it to South Africa to be with him at Christmas.
So how does she react when people comment on her husband's batting? "Gosh it's a nuisance at times," she says candidly. Sonali feels there is no pleasing all the people all the time. "When he doesn't do well they want to know what went wrong and when he is scoring they are full of compliments but still wanting more." She feels Russell's performance has improved after marriage though some tend to think otherwise. "There's this thing that after a cricketer gets married, his form slumps. But if he does well, there is no credit for the wife!"
Sonali and Russell have been married for 10 months. Of that time Russell has been home only for one month. "Don't ask," she says in response to what it's like to be apart for long periods. "It's extremely tough and depressing, I try not to think about it." But she is practical about it. "I tend not to be dependent on Russell. I know this is what he always wanted so I've learned to be independent," she says. She is gradually getting used to the constant seperations. "Now, Russell's just returned from New Zealand and tomorrow he is going to Galle. I guess after sometime you just start to adjust," she says, adding her work keeps her occupied.
Being on tour with him doesn't make things any easier either. "I'm on holiday but he's busy". The little time they have together is most often after a match. "But then he comes all tired and wants to be on his own. Asking him to take me out at that time wouldn't be fair." Despite that they did go out whenever possible. "We couldn't have late nights because there was always a match the next day. If he fared badly people would say that it was a result of me being there." Nonetheless in such circumstances she joins up with the wives of the other cricketers on tour and they go out together.
"There are no phone calls from fans," Sonali says, partly due to the fact that they live with her parents. "But there's lots of fan mail and I read them. Most of them want photographs." Lots of people come asking for autographs, especially when they go out for dinner. "Some people ask me for souvenirs, like Russell's T-shirts. Of course I try explaining that they are given a quota to be used for a specific time and giving them away is difficult." All the same Russell has given a few to some close friends. "Being Mrs. Arnold has its privileges," she says elaborating that you get to go and see places and people go out of their way to attend to you. "It's very important to be humble and nice. It doesn't take a piece off you," says Sonali who prefers maintaining a very low profile altogether.
She was not that much a cricket fan, but Neluni sure was a 'Marvan-fan'. "I used to collect his pictures and then when a friend from school offered to introduce me to him, I jumped at the chance." That chance was one that would change her life, for today Neluni is the wife of Marvan Atapattu, proud mother of their two-year-old daughter and pretty much a regular match-goer.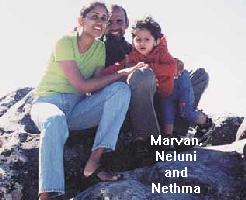 "Before I had the baby I used to go for all the matches. Now it's a little more difficult, but I make it a point to at least watch the match on TV. My parents come over and we watch the matches together," says Neluni who adds that the most thrilling part is that Nethma, their little daughter, is quick to recognise her father on TV, "sometimes before I've even pointed him out and that makes me so happy". Of course all that joy doesn't take away from the fact that she's nervous, especially when he's batting.
Support, according to Neluni, is not just watching a match on TV or being there for Marvan when he's playing. "It's about being there for him at all times, talking to him, encouraging him, gauging his mood after a match (depending on the outcome) and responding accordingly; even little things like getting his clothes in order before a match count."
The worst times are definitely when she can't be with Marvan. "I can't always join him, especially when he's on tour abroad. It's difficult but we manage by calling each other everyday. I also e-mail him. Because I work and because now I have the baby to worry about I have things to occupy myself with, thankfully," says Neluni who is the budget assistant at the World Bank. Luckily for her, her parents live quite close by and they drop-in to see how she is doing when Marvan is away.
Neluni is convinced that little Nethma misses her dad, although she can't express it. "Marvan is very attached to her and is one of the fathers who even enjoys the chores that come with having a baby. So it's only natural that she'd miss all that attention. Whenever he phones he talks to her as well and for her that's a thrilling experience."
"Whenever we're not together, he always calls me before a match and my advice to him is always the same. I always tell him to do his best and that's what he has always strived to do. And whatever the outcome, he takes things in his stride." Of course when he's not doing too well she's bombarded with many a 'what men, what's wrong ah?', to which she gaily replies, 'I'm not the one who's playing'. "Sometimes I give them the more philosophic 'we can't always win'."
What about fame? "Well, I have an identity of my own. I'm very much 'Neluni' and I'm not labelled 'Marvan's wife' (at least I don't think so)." But she is the one who deals with all the calls, letters and cards that come pouring in for Marvan. "It's impossible to keep track of all of it, but I make it a point to talk to fans who call without putting them off."
Being the wife of a cricketer is altogether a different experience. "Yet, it's the life I chose," says Neluni, admitting that it is lonely when he's not around, but at the same time it makes her happy to see him doing well. "I was totally prepared for this kind of life, I knew what I was getting into before I married. Like any other life, this has its share of ups and downs. But the most important thing is that I'm happy!"
I used to reply my husband's fan mail," says Dushyanthi, 'Mrs. Kumara Dharmasena'. "I don't work, so before the children were born this was the way I spent my time." A pastime that must have surprised quite a few of the fans who may have never expected a response to their mail. "Lots of friends ask me to get Kumara's autograph for their sons or daughters who are his fans."
A one-time autograph hunter herself, it was this habit of hers that led her to her husband. "I wasn't a fan of Kumara's," she laughs, "but I was getting the whole team's autographs so I got his as well. That's how we met." And the rest, as they say, was history. Marrying at just 17 was not in the least bit scary for Dushyanthi, "That was something I really wanted."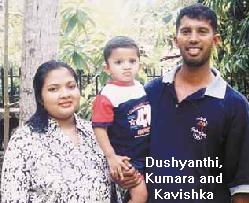 Dushyanthi is a busy young mum with two babies on her hands, the younger one being just one month old. Before the babies were born Dushyanthi was always by Kumara's side at every match, be it here or abroad. "Now, being there in person is a little more difficult," so she settles for sitting by the TV and being with him in spirit.
During a match she cannot be disturbed or distracted. "I'm so nervous when he's playing, I think I keep my fingers crossed right throughout the game." Yet, bundle of nerves though she may be, she's never too preoccupied to point out 'Thaththa' to her eldest child, two-year-old son Kavishka.
Sometimes she tapes some of his matches, something she got used to during the days her husband was not doing too well. They worked through the hard times watching and rewatching all the matches she had taped for him, analyzing his weak points and discussing ways to develop his strengths.
Now that Kumara's back in the team what's the publicity like? "Not too bad. Actually when we first got married there was quite a stir, but afterwards the hype died down," says Dushyanthi who has accepted that with her husband would come his fame which she would have had to deal with. "Of course there are the advantages of being famous," she laughs adding, "Yet, I would've taken Kumara with or without his fame."
In the words of J.M. Barrie, "Every man who is high up loves to think he has done it all himself; and the wife smiles, and lets it go at that. It's our only joke. Every woman knows that". Well, she couldn't have put it any better!