Small Talk
By Nedra Wickremasinghe
Good manners are all about courtesy, respecting others and putting others at ease. So are you particular about the impression you make on others? If you have any questions on etiquette write into Small Talk. Nedra Wickremasinghe, Director of Nedisa Social Skills Training Institute will answer all your queries.
All your letters should be addressed to:
'Small Talk'
C/o The Sunday Times
8, Hunupitiya Cross Road
Colombo 2
---
'Dressing down' on a Friday
Aquestion I have been asked very recently by human resource managers and personnel managers is 'what constitutes the smart casual dress code?' They also want to know how casual Friday dressing should be. What they are trying to figure out is a suitable casual dress code for their employees.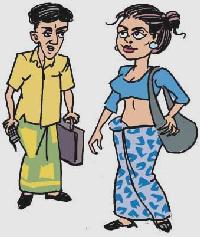 If casual is the new millennium dress code for office, then what becomes of the much-hyped power suits and power dressing of the '90s? Will the power suits be put in cold storage giving way to Chinos, Dockers, ginghams, designer sarongs, sherwarni, chappals and loafers as 'New Age' office wear? What of blue chip companies and multi-nationals - will they trade their well-starched stodgy office wear for savvy, upbeat, easy -to-wear and somewhat sporty clothes as worn by techno types and e-commerce employees?
No, not totally. But just once a week on a Friday, a few establishments, surprisingly, have embraced the casual Friday dressing syndrome. Slowly but surely the Dressing Down trend has entered our corporate culture.
Here's what some top executives have to say on the casual Friday concept:
A top foreign bank:
We introduced this very recently, about six months ago on the last Friday of every month. We like to create a relaxed and fun environment for our employees. Keeping away from their stiff work outfits, puts them in a light mood. We have some guidelines though and adherence is important so as not to lose the respect and confidence of customers.
A Blue Chip Company:
No dress down day as such but the general dress code for everyday is smart casual and our executives have their ties more in the drawers than round their necks. Ties are taken off for meetings. The casual dress code is for every day, in keeping with our relaxed and easy going corporate culture.
A big corporate giant:
No dress down day for the moment. Monday through Friday is formal office wear but on Saturdays staff come in casuals.
Another Blue Chip Company with a hospitality and brewery connection:
We implemented this only last August and it is on a Friday. We think that psychologically it makes the employees interact freely and gives them a sense of closeness. Regimented office wear is too formal to achieve the casual atmosphere in any workplace. Eventually we hope to go all casual, Monday through Friday. But when meeting clients and when on the field we dress formally.
A leading garment industry:
It is formal office wear for everyday. But on Saturday which is another normal working day for us, we dress casually.
A leading ad agency:
Neela Marikkar of Grant Mc Cann-Erickson says that being in the creative field the introduction of a 'casual day' was very welcome considering the nature of their work. She says, "It's nice to let the staff have a chance to lighten up and be less formal." Their casual day is held every fortnight on a Friday.
Grants go all out on this day with dress codes reaching the staff well in advance. They have different and exciting themes like 'Sri Lankan Day', 'Jeans Day', 'Sarong Day' and colour themes. If there is a clients' meeting then the staff make it a point to dress appropriately.
If a proper blueprint is not drawn up 'dressing down' can cause confusion, maybe to the extent of the corporate office taking on a party atmosphere. Guidelines for male and female employees are useful. Although casual dressing sounds oh so easy, in reality it can have a few drawbacks.
Risk factors
* Laidback frumpy employees will conveniently come in their comfortable, shapeless outfits raked
from the back of the closet.
* Likelihood of disrupting the professional mindset with the casual attitude.
* Smart casual dress can be confused for clothes that are suitable for sun, surf and picnics.
* Tendency to look too bohemian in a corporate environment.
* Your casual presence could be misunderstood and you could even lose the confidence of your clients
* Management will be the first to pull you up if you are slightly out of line.
Here are some of the sensible solutions for ladies when ' dressing down'
* Avoid super-low and belly-baring clothes.
* Save the glitz, glamour and sheer stuff for night clubbing.
* Keep runway fashions for after office hours.
* Avoid the highly distracting micro-mini and shape enhancers.
What men must avoid on 'dressing down' day
* Open sandals, Hawaiians, chappals.
* T-shirts without collars.
* Short-sleeve shirts which do not expose your biceps.
* Over-size cargo pants with hem folds scrunching at the shoes.
* Skin-tight jeans and broad belts with big buckles.