Singing for the children
With talent recognised and harnessed from the time she was little, 16-year-old Karoshee Vijayasekere has gone places both literally and metaphorically!
This young achiever, who is full of sprite and bubble, speaks with maturity well beyond her years. With a deep insight into the war that has ravaged her motherland, Karoshee believes that change has to come from individuals in her generation. "We have to combine our talents and skills to bring about peace and harmony to this beautiful country. Since art has no barriers and boundaries, it can be an effective unifying force to foster a sense of togetherness."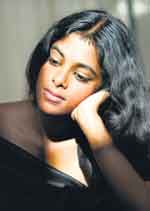 Karoshee, who brings hope to disadvantaged children
An awareness of the need to protect and promote the rights of the child also reflects her empathy to those circumstantially less fortunate and less privileged than herself. In keeping with these strong convictions, she has embarked upon the journey of using her God-given talent – her voice – to help the children of the world in general and those of Sri Lanka in particular.
"It all began in December 2004, when I woke up to the horrifying scenes of devastation screened on national television. I felt an indescribable emotion that made my heart leap out to all those children affected by the disaster. I wanted to do something for them," says Karoshee.
Karoshee used her talent in singing to raise funds for children by setting up an organisation called Trust Children last year, with the proceeds of her inaugural Sri Lankan concert held at the Lionel Wendt in July last year titled 'De-Tsunamise Children with 'HOPE' – A child artiste sings for children's cause.' Her second round of proceeds for Trust Children was earned in March this year in Paris, when she was invited to sing for the Prince of Monaco Albert II, the proceeds of which were sent to the Grace Kelly Foundation in Sri Lanka. The Paris event unfolded at the famous Café of the Prince of Monaco, and was organised to collect funds for the Monaco Aide et Presence (MAP).
The Prince was highly impressed with Karoshee's performance, and expressed the intention of having her back for a solo concert in 2007.
During this visit to Paris, she held a private concert, and used the proceeds to donate yet another set of scholarships to the children of Moratuwa from all ethnic backgrounds. Within a span of seven months she has already donated seven scholarships. "With the help of municipality officials, very needy children, who have immense potential for academic development and contribution to society, are identified and referred to us. From then onwards, Trust Children takes over to help these children from the age of 13 right through their tertiary education."
This performer, even though she has spent nearly all of her life abroad, says, "I want to maintain my identity as a Sri Lankan, but make my performances have international appeal." Having moved to France with her parents when she was four months old, her singing career got underway from the tender age of seven in Paris, when after a successful audition, Maestro Francis Bardot, Director of European Children's Choir (ECC) accepted her for voice training. Having joined the ECC in 1997, she was not only the youngest member of the choir, but also the only Asian to have the honour of singing with them.
In 1999, Karoshee sang for the CD done with the Symphony Orchestra of Paris, with the choir of Opera de Paris conducted by John Nelson (USA), and also sang with the Boston Symphony Orchestra, USA at the renowned Salle Pleyel, Paris. In 2000, she achieved two important milestones. First, on July 5, she, with her choir, sang at the biggest millenium musical event, France 2000, under the Eiffel Tower, which was televised fully by French TV. In it, the Boston Symphony Orchestra was conducted by the renowned Maestro Sergi Osawa. Secondly, she was selected for a US Tour with the ECC, in which Karoshee had the distinction of singing the American – "O Beautiful," in 10 out of 11 concerts from Los Angeles to Las Vegas.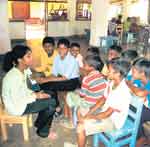 with some children she supports
Returning to Sri Lanka after her father's work assignment in France, she joined Stafford International School (SIS) in 2002. Back home, she continued her successes. She was a Guest Singer at SIS, won Solo Singing in the Talent Contest at SIS, won two All-Island Gold Medals for Vocal Solo and Musical Solo, conducted by the British Federation of Festivals of Music, Dance and Speech, and has sung with the National Choir of Sri Lanka accompanied by the SL Symphony Orchestra.
Accompanying her parents on a diplomatic assignment to Cuba, she joined the Cuban National Children's Choir (CNCC) in 2003. Through her many international exposures with CNCC, she has had the privilege of singing at the Presidential Palace four times before visiting Heads of States like the Presidents of China and Venezuela, and also before VVIPs attending the UN Environmental Conference in Havana. "My stint in Cuba really did wonders for my singing career. I could feel myself shining. Being in the national choir was an honour, primarily because their standards are very high, and especially, because it is the 'national,' choir and being a non-national the demands were higher."
An all-rounder, currently an eleventh grade student at Ridley College in Canada, Karoshee maintains very high grades in her academic work. What's interesting to note is that Karoshee, while being on a scholarship at Ridley College, also gives out scholarships to children in Sri Lanka. She speaks four languages – English, Sinhalese, French and Spanish, and sings in two additional languages, German and Latin.
Besides singing, her other interests include dancing and acting, having won the Best Actress Award at a talent competition in school recently. "I am a normal person and despite being very busy and involved in a lot of activities, I make it a point to keep time for my family and friends."
Karoshee's future aspiration is to be a professional 'walking on both legs' – to engage in a profession, preferably in the field of International Relations, and continue to sing for the cause of the children of the world.