Investors say no support from authorities
The saga of the Seagull Softwares scam perpetrated by two Indians which duped thousands here in Sri Lanka continues. "The Sri Lankan government nor the authorities have pproached us so there is nothing pending on our part," Sanjay Sudhir, Economic & Commercial Counsellor for the Indian High Commission told The Sunday Times FT. "If the Sri Lanka government approaches us for something, we will assist." Dilip Samarasinghe, Director of Media and Publicity at the Board of Investment (BOI) said they have no record of Seagull Softwares (Pvt) Limited having BOI status or even seeking BOI status. "There are some other companies who use the name Seagull but these are reputed companies with no connection to the scam."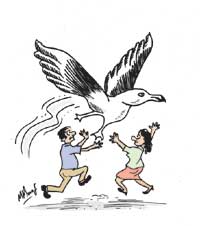 Harren Tennakoon, Committee leader for the Seagull victims, is still waiting for some news from the CID on a letter he handed over to them on October 25, signed by several other members. "So far, there has been absolutely no contact or response from the CID. I don't know if they are conducting an inquiry or if they even need any additional information from me," he said. The committee members have drafted a letter to the President as a last ditch attempt at garnering some sort of response from the authorities.
An investor who wishes to remain anonymous said the government and the Central Bank are not doing anything. "We are trying to find any other organizations that can help us out," he said. Another investor who also spoke on the condition of anonymity said, "The latest I have heard of what is happening is from the newspapers," adding that the lack of support from authorities is disheartening. "A meeting of some members was supposed to be held last week but it was cancelled. We are trying to form a group and exert some pressure on government authorities to do something," he said.