Women at work
Dear TPH,
There is a general perception that when it comes to using computers, men are better than women. I am a woman and a better programmer than most of my male colleagues at work, but I never get the respect and responsibilities I deserve, probably because I am a woman. Isn't it time that people learnt to overlook gender differences and treat everyone on their merits?
– H.W.
Dear H.W.,
When I started my IT degree, my first group was made up of four guys and two girls. Out of the four guys, only one (that wasn't me), was capable of writing a program in C without freezing the computer with an infinite loop or crashing the OS (which unsurprisingly was Windows...but of course!). Both the girls however turned out to be capable programmers in no time, and I often had to seek their help to figure out how to construct a class in Java – which despite their best efforts, I admit I never actually learnt how to do. I have watched in amazement at how gracefully they speak the language of the totally unintelligent machines and persuade it to slave both day and night at their service. The statistics as far as I am concerned, clearly indicate that women are much better programmers than men. But statistics are only one part of the story.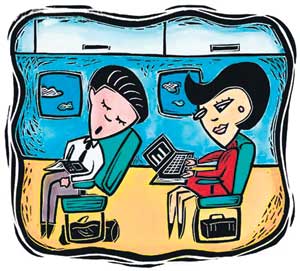 We need to go into the psychology and genetic make-up of men and women to understand what's really going on. It is obvious that the structured thought process and meticulous planning necessary for programming computers are built into the genetic make-up of women. This is because women have evolved with the ability and charm necessary to get any living or non-living thing to do what they want and this is most true in terms of men and computers. This is why I cannot understand why software companies and their project managers have failed to identify the great potential of hiring women as programmers.
However we should not stop at that, but fight these petty social stereotypes on all fronts. We should ban the use of computers for entertainment because the image of a man playing a blood-splattering computer game with beer and chips in hand gives the impression that computers are not just for 'programming,' but are also for a myriad of other functions such as communications and entertainment as well. I will from henceforth enforce a self-censorship and vow never to admit in public media that it took my mother over two years to learn how to send an email.
But the best place to start a 'feminist inspired IT professional image promotion' campaign is by encouraging more girls to take up IT as a career. The 50:1 male-female ratio of students in lecture theatres on university level IT programme all over the world, threatens any credible statistics which testify to the computing power of women. Not only that, I can assure you that it is even more harmful to the male student population who are forced to risk life and limbs and creep into the more female-dominated business and law tutorials for more cross-gender association.