On dangerous ground
The threat of landslides is looming large with ad hoc building practices being the root cause
By N.Dilshath Banu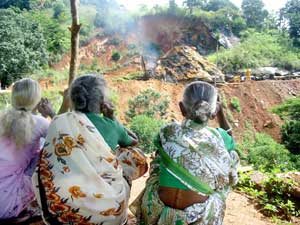 Kandy is one of the worst affected districts. Pix by Shane Seneviratne
Improper and ill-advised land-use practices are resulting in an increasing number of landslides in different parts of the country especially in the hill country, an official has warned. R.M.S Bandara, head of the Landslide Division of the National Building Research Organization(NBRO) says the heavy showers that are being experienced due to the inter monsoon period could lead to landslides but the main reason for the current spate of landslides was incorrect soil-cutting procedures being adopted during construction.
Explaining the situation he said when one cuts into slopes the soil has to be supported. But most people fail to do this or do not do it immediately, which could lead to landslides.He said although the NBRO and other local authorities can provide people with information on proper land-use practices, their assistance is hardly sought either through ignorance on the availability of such assistance or in most cases illegal builders deliberately opt to disregard such procedure.
In addition to floods that has wreaked havoc in the lives and property of people, landslides and the threat of it has displaced 490 families in Kegalle, Badulla, Ratnapura, Matale and Kandy. Kandy is the worst affected with 153 families being displaced. More than 200 houses have been damaged in Kandy, mostly in the Udapalatha Division with 106 houses damaged. The second highest casualty area was Yatinuwara with 88 houses damaged. The biggest number of displacement occurred in the Gangawata Korala Division, with 103 families displaced.
"Though Kandy District is the worst affected due to landslides, 215 families have been displaced in Kegalle District as a result of minor landslides too," Nimal Hettiarachchi, head of the National Disaster Management Centre(NDMC) said. According to data from the NDMC, 58 families have been displaced in Badulla, 55 in Ratnapura and 13 in Matale. Thirteen people have died due to landslides with deaths being reported from Kandy, Kegalle and Badulla.
A senior Geologist at NBRO Kandy, M.I.D.H Wijewickrema said the main reason that Kandy was experiencing so many landslides was improper land use practices. "The population has increased and many houses have been constructed in an ad hoc manner in small land areas. This is the main reason for the landslides," Mr.Wijewickrema said.
Meanwhile Kandy's Additional Government Agent A B.E.H.M Sugathadasa commenting on the relief operations said the Pradeshiya Sabha and several NGOs, were engaged in issuing dry rations and other items to the displaced. He said cooked food had been distributed for four days, but now dry rations were being given to the people as it was difficult to continue providing cooked food.
Kegalle District's Additional Government Agent W.M Abeywickrama said the displaced people in the district were being housed in two schools and a temple.
"We are looking for alternate land to relocate these displaced people," he said. Badulla District's disaster management officer Prasanthi Chandrasena said that they were waiting for the rains to cease to evaluate possible alternate locations for the displaced people. He said the evaluation of alternate land for affected commercial enterprises such as shops will be handled by the Urban Council.
Though Ratnapura District did not experience severe landslides, there are signs that it could happen in the future. Ratnapura District's disaster management officer Priyanga Premachancra said, "No major landslides have been reported, although a few minor earthslips were reported in Elapatha, Kollana and Kiriella. However, big cracks are appearing on the ground in some areas, posing the threat of landslides in the future," he warned.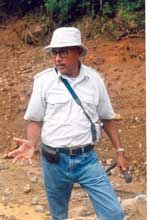 Kapila Dahanayake
Urbanisation the problem
By R.S Keeriyawatta
A leading Geologist has warned of the threat of more landslides in the hill country as the incessant rains showed little signs of ceasing. Prof. Kapila Dahanayake, of the University of Peradeniya said the heavy and continuous downpour was creating changes underground which could lead to landslides.
" Heavy rains in the past did not give rise to so much fear and talk about landslides. Landslides are aplenty in areas of the Sinharajah forest. But since they do not cause much harm to life or property very few talk about it. However, today, the threat of landslides is causing a lot of concern not just among lay people but also those doing research into the subject," he said.
"Since of late our population has grown immensely, causing a massive need for land for habitation. The result was that people started living in inhospitable areas like mountain tops, and valleys where there is no provision for proper flow of rain water via a systematic draining system. There is also no proper planning when building houses and the flow of rain water is what is least in the minds of the builders," Prof. Dahanayake said.
Victims of landslides
District
Affected families
Deaths

Kegalle


215
3
Kandy
153
7
Badulla
58
3
Ratnapura
55
Matale
13
-
He says the problem has been aggravated in urban areas of Kandy and Peradeniya due to haphazard building. The danger of land slides is especially high in areas such as Bahirawakanda, Suduhumpola and Peradeniya. He also said that what was occurring now was a strange phenomenon where the land of a particular house may slide but not necessarily the house adjacent to it. He said people should be alert to certain signs that showed up areas susceptible to landslide . They include trees tilting to a side, trees dying without any apparent reason, rocks breaking loose and rolling and underground water flowing out through land where houses are erected. In certain cases cracks on the ground may be observed or cracks on walls may start spreading – which can be taken as forewarning signs of landslides.
Commenting on precautions that could be taken he said that if a flow of underground water has been observed where a house stands, steps must be taken to evacuate the inmates in time to safer places. This situation is known as an inter erosion period.
However he said nature alone cannot be blamed for landslides as nowadays behavioural patters too contribute, like careless erecting of houses. As the demand for land is more than the availability of it there is congestion hence the need to clear jungle areas resulting in the cutting downof trees Prof. Dahanayake said.