Junaideen journeys for a united cinema
Veteran producer and director A. A. Junaideen has returned with an alien in his latest film 'Kurumittek Evilla'.
A movie meant for both children and the whole family, the debut production of Priyanka Perera, revolves round a story of a powerful message of ethnic harmony. Junaideen himself has played an active role in bridging the gap among different ethnic groups through his chosen medium, the cinema. Junaideen is a pioneer filmmaker of Tamil films in Sri Lanka. He is well-known for his contribution of bringing Sinhala films to a wider Tamil audience. Some of the Sinhala films he dubbed were 'Haralakshaya', 'Mihidum Sihinaya' and 'Ajasaththa'.

A.A. Junaideen
'The first cinemascope Tamil film was not made in India but in Sri Lanka. "Deiyawam Andavichchu" directed by Wilfred Silva which was the first Tamil cinemascope film,' Junaideen said.
'It was not as Sinhalese, Tamils or Muslims we fought against the importation of foreign films in the late 1960s. We got together to protect this industry as a family' added Junaideen as he remembers his past. At the age of 61 years Junaideen brings us memories of film artistes going to Bogambara grounds, Kandy to hold a mass protest on March 17, 1968.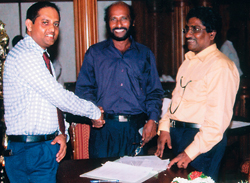 Producer Priyanka Perera with Junaideen and cemeraman
'The golden age of cinema was during the time of Prime Minister Sirimavo Bandaranaike when the National Film Corporation (NFC) was established' the filmmaker said.
Starting as a journalist writing to ''Dinapathi' during 1984 and 1989, Junaideen wrote his first novel while he was a journalist and he made his first film based on this.
Junaideen's talent was not limited to films and novels. He holds the record for writing the first Tamil Language radio drama book.
Among the commercially successful Sinhala films Junaideen made were 'Somi Boys', 'Sanduni', 'Naga Kanya' and 'Superstar'.
Describing the film and its background Junaideen says, "I am happy that I did not belong to this generation when we only see wars and fights. In the film I represent the old man who lives very much on his memorable past".
Making of 'Mr. Alien'
'Kurumittek Evilla', titled as 'Mr. Alien' revolves round two families of Nallappa and Sunil. The children of the two families are friends and they play, fight and unite again. There is an old man who lives in this village. He is a happy man who has contended memories of his past. Whenever he comes across a sad and unpleasant experience he compares it with his own past highlighting the stark difference between the period then and now.
It was on such an occasion that a creature, an alien, from outer space visits his village. The alien is disgusted with what he encountered there. It is an ambiance of disharmony and endless quarrels and fighting among the humans.
One day the two families fight each other. This affects the friendship between the children too. And suddenly the children go missing. The parents accuse each other for the loss of their children. Even 'Mr. Alien' is not happy with the way the people fight. He decides to leave the earth.
The film stars are Veena Jayakody, Cletus Mendis and H. R. Weerakkody. In the technical crew Danny W. Pathirana handles the camera while the art director is Keerthi Ruwan. Written by Junaideen, Manoj Selvanayagam is the make up artiste and assistant director is Chandana Edirisinghe.