Free-for-all as Trinity down Kingswood
Trinity 23 Kingswood 18
A fresher-laden but tremendously courageous Trinity outfit turned tables on the powerful Kingswood side to defeat them by 23 points (1 goal, 2 tries, 2 penalties) to 18 (1 goal, a try, 2 penalties) at Pallekelle last evening. At lemons, it was the losers who led 15-10.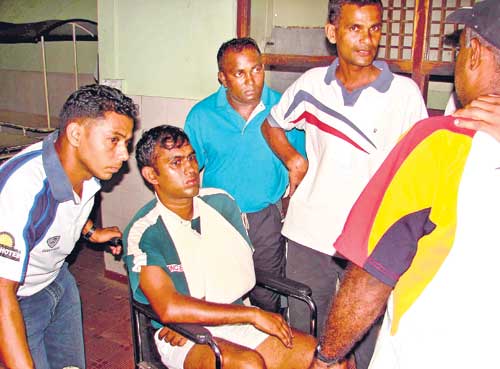 Referee Pradeep Fernando who was injured after the Trinity-Kingswood clash at Pallekelle seen after receiving treatment at the Kandy Hospital. ( Pic by Shane Seneviratne)
The young lions threw themselves at their opponents with great determination and tackled with fury. So much so that they had the lads from Randles Hill really rattled in the second half.
Skipper Sean Wanigasekera took the field midway in the second half and, hey presto, Trinity managed to win a line out or two. He even barged over after Trinity had taken a short tap and scored to even the tally.
Roshan Weeraratne put over a penalty to give Kingswood the early lead. But four minutes later, centre Rangika Ailapperuma intercepted on the half way mark and breezed through for an under the posts try. Sinsi Siegertsz converted and Trinity led 7-3.
A missed pass between the Trinity halves in their twenty two, enabled fly half Chirath Wijetunga to score. Weeraratne converted for his team to lead 10-7. A Siegertsz penalty then tied the scores at 10 all.
A Trinity clearance from close to the line was charged down and scrum-half Roshan Weeraratne fell over but failed to goal his own try, 15-10. The skipper's try which went unconverted made it 15 all early in the second half. Siegertsz gave Trinity a psychological boost by knocking over a penalty. (18-15)
Trinity were now swarming all over Kingswood's 22, and it was no surprise when the centre made a break and Idris Omar finished the good work by scoring.
Weeraratne put over a consolation penalty to make the score 23-18. At the end the Trinitians were all over Kingswood territory and striving hard for another score.
Pre-match talk was of cricket scores and the need for calculators. But by this superb display, the Trinitians squashed all such hopes. More importantly, they sent a message to Royal ahead of next week's clash that the Bradby is not up for grabs.Referee Pradeep Fernando. Under 12 Trinity won 28-0; Under 16 Trinity won 31-0. There was a free-for-all after the final whistle and it brought no credit to players and old boys alike.
Referee rushed to hospital
Violence raised its ugly head once again. This time it was at Pallekele following the schools league rugby match between hometown rivals Kingswood and Trinity.
Following the final whistle it is alleged that a senior Sri Lankan Sevens player severely assaulted Referee Pradeep Fernando in the dressing room. Fernando's injuries were rather extensive and he was warded at the Kandy Hospital. At the time of going to press informed sources said that there were injuries to his mouth and nose.
President of Trinity Rugby Scrummage Janaka Kiridena said that whole episode started just as the final whistle was about to blow. Another spectator at the game Bimal Fernando said there was a fracas between the players. He added: "It grew out of proportion as the Kingswood spectators got involved and then it became a major fight. I have heard some rumours that a foreigner was also involved. But I cannot comment on it. All I can say is that Trinity's coach who is also a foreigner was near me." Kiridena added that the old boys of both schools had got involved and managed to stop the fisticuffs.
Kingswood's Principal Ranjith Chandrasekera speaking to The Sunday Times said that all he saw was Trinity's coach assaulting some Kingswood players following the game. Meanwhile the Balagolla Police who are handling the case confirmed that four people had been rushed to hospital following the incident and that they would record statements today. (HJ)