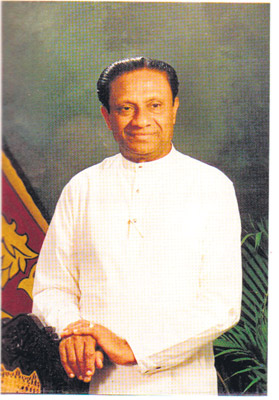 Prime Minister to President – His Excellency President Ranasinghe Premadasa
Ranasinghe Premadasa, born on June 23, 1924, was the second Prime Minister to become Executive President. (The first was J. R. Jayewardene). Starting his political career as a member of the then Ceylon Labour Party, he moved over to the UNP as a trade union worker and moved his way up, overcoming many barriers. His taste of local government politics began when he was elected UNP member of the Colombo Municipal Council in 1950, becoming Deputy Mayor in 1955.
He entered Parliament as the third member for Colombo Central, a three-member constituency, in March 1960 but lost at the July 1960 election. He was elected second MP for Colombo Central in March 1965 and was returned as first MP in 1970. He was appointed Minister of Local Government and Housing in the Dudley Senanayake government and retained the portfolio under the J. R. Jayewardene government in 1977. In addition, he was Leader of the House too.
When J. R. Jayewardene became Executive President in February 1978, Premadasa was the obvious choice for the post of Prime Minister and he retained the portfolio of Local Government, Housing & Construction as well. When Jayewardene finished his term of office in February 1988, Premadasa was UNP's choice to contest the Presidential election which he won defeating Sirimavo Bandaranaike, the SLFP candidate.
As a minister, Prime Minister and President, he gave priority to programmes to improve the conditions of the poor and the rural folk. He had to deal with two insurgencies – one in the North and one in the South.
He met with a tragic end when a LTTE suicide bomber killed him on May 1, 1993 while he was attending the May Day rally.