Just the right frame

What a reel of cloth is before it's created into a fabulous dress; what a canvas is before it's made into a masterpiece;what clay is before it's moulded into a wondrous sculpture, a log before it's transformed into a finely crafted piece of furniture… is what a work of art is without a frame. Or in the words of Shanila de Livera, Managing Partner of Foto Design – "Art becomes personal once defined by a frame."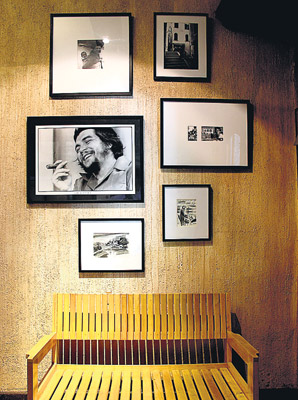 Having taken over the business from her father in 2002, on her return from studying overseas, Shanila seems to be full of new ideas for the business. Her passion for her work is quite apparent, as she shares her insight on the numerous styles and types of framing, designing and printing her company is now able to undertake. Thus, she realised the full potential of the framing market here, and so most definitely wanted to expand the company's services to include framing also under the same roof, she added.
Having started off way back in 1986 with the issuing of identity cards to various business establishments and also having achieved a market leader status in large volume lamination work in Sri Lanka, Foto Design has gone from strength to strength over the years. So much so that it is now capable of providing a customer with a comprehensive package of all their photographic needs, all excluding the photograph itself, that is, says Shanila.
From, creative and colourful framing, to collages, superimposing, restoring, designing and printing logos and producing plastic I.D. cards and of course all types of lamination. Foto Design does it all! "The way we work is very simple and hassle-free for the client," she said "The customer usually briefs me on their idea, (in any of the above area), based on which I design something I feel would best suit them and mail them a prototype, complete with a varied choice of options. The client can then, either approve it, mix and match or amend it and return it to me so I can start work on it." So, the only time the client actually needs to drop by is to drop off an item which requires framing."
"I also love to play around with colours and although painting is not my forte, I have always been able to appreciate art a lot, so even when I see a little picture, dozens of ideas flood my mind as to how best to enhance it," she said. Not many people know or realise that a painting/ picture with the right frame can make a huge difference to a room. However, people's awareness of art has really improved over the years and now they seem to be more interested in interiors and framing, because they now know how it can virtually transform the appearance of a room, she elaborated. "People should also be very careful and discerning when selecting a frame for a picture, as it can either kill it or bring it to life!"
Also, hardly anyone knows that such things as double glass framing can be done here, she said. She's even tried out the likes of katayam frames and once even laminated, mounted and box framed a computer hard drive! She's also framed mementos, autographed guitars, uniforms, mirrors, postcards, coasters or anything for that matter! You take it over to Foto Design, they'll frame it! Even something as basic and simple as a black and white A4 photocopy can be made to look amazing, with the correct frame of course, she said with a smile. "Almost anything regular can be made to look exquisite, when combined with just the right frame," she explained. She's even hand picked a collection of vibrant scenic and abstract prints (posters), that can either be purchased as is, or framed, depending on the client's preference. Shanila's latest venture to take on designing and printing wedding invitations too seems to be quite an imaginative experience, as she gives her clients her input and once a consensus has been reached, she takes it on from that point onwards, working with the idea until she's made the maximum of the concept.
So if you've got art on your mind, visit Foto Design, you're guaranteed to walk away with a masterpiece!
For more details visit www.fotodesign.lk or visit them at 64, Dharmapala Mawatha, Colombo 03 (blue wall). Contact Tel: 2575476/4944744 or e-mail fotodesign@koolairgroup.com