MAS shines at Nike regional Vendor Summit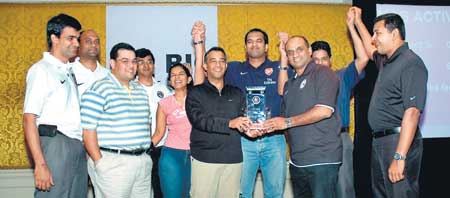 Picture shows Shirendra Lawrence – Managing Director, MAS Active (right) receiving the award from Atul Ujagar – Country Director, Nike (left). The MAS Active Team celebrates in the background
MAS Holdings Group, the largest apparel company in the region with capabilities in intimate wear, active wear and fabrics, was commended at the Nike Indian Liaison Office Vendor Summit in Bangalore this week.
In a statement the MAS Group said it was commended by Nike on many areas of business performance including Innovation, Regional Product Development, Quality and Corporate Social Responsibility. "The MAS teams have embraced the Brand Partnership and shown an amazing passion in creating excellence that is valued by the Nike consumer. The teams come together across MAS' various business units and disciplines to understand the expectations of the Brand and deliver on a common vision that meets and exceeds their expectations of the region," it said.
MAS Active was presented the award for "Outstanding Performance" in all these areas as well as a very high success rate of on-time delivery performance, while also being applauded for consistently good Product Quality, with zero defects being identified at Nike's independent audits over the past 9 months, and an annual defect rate of just one tenth of the accepted standard.
Bodyline (Pvt) Ltd., MAS Intimates' specialized bra facility, was presented with a Certificate for Innovation & Outstanding Quality Performance on highly complex products, both in innovation, and manufacturing quality standards. All Group Divisions were acknowledged for "Doing the right Thing" in maintaining high compliance standards, and contributing to community development.