Prince veerapandu
~This article is part of a continuing series on the 'Mahavamsa,' the recorded chronicle of Sri Lankan history~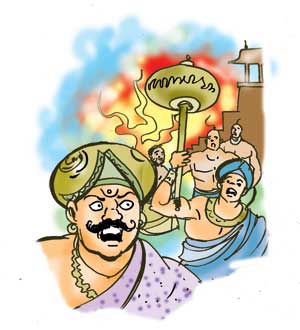 1. Commander Lankapura was able to win in all the battles there. Next he marched his army across the Vegai River and attacked a village there. Then he returned to their camp. Meanwhile the forces of Prince Kulasekera were getting ready for a fierce battle and that was to attack Commander Lankapura's camp. He collected the maximum number of soldiers that he could and built up a very strong army. They attacked both from land and sea.
2. They, however were unable to achieve their end. Lankapura managed to win this battle too. But Prince Kulasekera was not disheartened. He attacked again and again. The Sinhala soldiers were able to defeat them at every turn. In one instance the army of Lankapura chased the defeated army of Kulasekera, for miles and
miles and went on attacking them.
3. Yet, Prince Kulasekera did not want to give up battle. He was determined to win. He reorganized his army and attacked Lankapura's camp – making use of all his military power. But once again, Prince Kulasekera was defeated. Commander Lankapura then directed his attention towards the coastal districts. He advanced his army to the north of River Vegai. Here too he was able to capture a number of villages.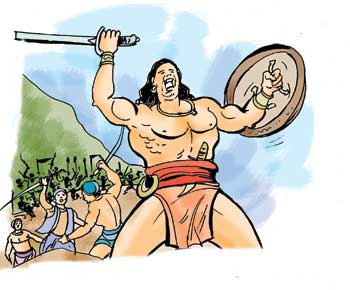 4. After this battle, some Pandya chiefs surrendered to Lankapura. There were others who were against this submission because they wanted to continue the fighting. The Sinhala army was able to defeat them once more. They succeeded in conquering a large portion of the Ramnad Province. The Sinhala army tried all their tactics and conquered the road to the city of Madura. They spread their power as far as Netturu and camped there.
5. Though the Sinhala forces were stationed here, the commander managed to win the hearts of a few of the Tamil leaders and officers. They were given gifts and offered various positions. Meanwhile the commander got news of a son of the deceased Pandya king. This prince had been hiding with his wife and children. He was Veerapandu by name. Their hiding place was the hill-country between Travancore and Madura.
6. Commander Lankapura sent a message to this prince. It read like this, "We are here to see that justice is met. We want to keep an heir of the deceased king on the throne. This is at the request of the King of Sri Lanka. Therefore, you need not feel frightened. Come and meet us, at your earliest."
No sooner the prince got this message, he came to the camp of the Sinhala soldiers to meet Commander Lankapura. The commander understood that Prince Veerapandu was facing a very pathetic situation.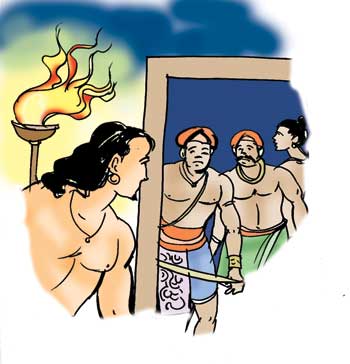 7. He kept King Parakramabahu informed of his plight. The king too felt sad and sent a whole lot of items including silver and gold and a lot of other valuables for the use of the prince. The prince accepted these gifts reverently,
making obeisance in the direction in which the king was.
Commander Lankapura carried on his fighting campaign. He surprised Netturu by bringing Madura under him.
8. The provinces captured by Lankapura forces were bestowed to the chiefs who were loyal to him. Kulasekera who was suffering defeat after defeat came again with a huge army and captured Netturu. Then Commander Lankapura had to return along with his army, to fight Prince Kulasekera. The commander managed to defeat Kulasekera's army and chase the soldiers away. Commander Lankapura established Sinhala power once again in Netturu.