Lucky to be found and loved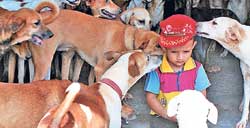 Sathva Sevana inmates: "Let's check out this stranger , shall we?".
A gang of 193 dogs of all shapes and sizes, offended by invaders to their territory, began a deafening chorus of barks as we entered "Sathva Sevana", a shelter for homeless dogs. The shelter is situated on 95 perches of land nestling between the paddy fields of Kahathuduwa, Polgasovita, and is home to dogs who have been picked up from the street or abandoned.
Managed by the Animals Welfare and Protection Association (AWPA), which is affiliated to the RSPCA (UK), Sath Sevana has two branches, one in Kahathuduwa, started in 2002, and the other in Dehiwela, started in 1968.
The AWPA committee headed by Hemantha Jayatilake focuses on providing a comfortable shelter for dogs that have been ill-treated.
"We have encountered so many dogs that have been at the receiving end of unimaginable cruelty, we have found them thrown out on the road as soon as they developed even curable diseases like mange and other deformities," said Mrs. Jayatilake, pointing out Sylvie, a gentle old German Shepherd abandoned because of a deformity in her spine. Sylvie whose fur has now turned white, is around 12 years old.
The AWPA's next fundraiser is a sale of usable items to be held at the St. Michael's Polwatte church hall on November 24. The public can contribute by bringing in any usable items from clothes to kitchen utensils to support this cause.
Donations could even be made in kind- each shelter requires as much as 35 kilos of rice a day.
Cheques could be drawn in favour of Animals Welfare and Protection Association, and sent to Mrs. Malsiri Dias, Treasurer, AWPA, No. 14/1, De Fonseka Road, Colombo 5. A current account is maintained at the Standard Chartered Bank (Bambalapitiya), account No. 01-1098829-01.
Over the years, AWPA has sterilized over 20,000 dogs with its own funds and donations and continues to conduct regular sterilization campaigns. It has also instituted a system of "referrals", where animals are referred to vets and given treatment at concessionary rates.
Sadly, the AWPA is facing a serious lack of funds. Taking care of the dogs costs around Rs. 200,000 a month, and the two centres barely get by in terms of funding.
Meanwhile, the amount of new dogs coming into the centres keeps increasing. The dogs can be put up for adoption, but the association is particular about the homes they are sent to, and check on each prospective home before giving them over.