Happy ending to a poor tour
Yesterday marked the end of a disappointing tour to Australia even if the final game itself gave us some consolation as we beat the world champions in a tight finish. Nevertheless, this tri-nation series was more of a tour to reflect on rather than being a tour to remember.
We began the game against India on Tuesday knowing we had to win the remaining two games to go through to the finals. And at 72 for the loss of Dilruwan Perera in only the 14th over, those of us in the dressing room entertained notions of a total that would stretch if not challenge the Indians.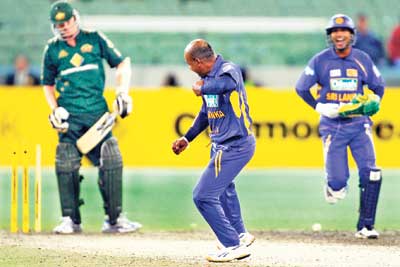 Sanath Jayasuriya celebrates after taking the wicket of Brett Lee.- Reuters
But Sanga's dismissal at this point, when he decided to go after the bowling of Praveen Kumar, opened the now familiar floodgates and it was only some resolute batting by Chamara Kapugedera and the tail-enders that saved our blushes. A total of 179 on a flat, good batting track was not what we had hoped for in a must win match and the rest is now history.
At our team meeting after the game against India we talked again about our batting. It seemed that some players were worried about failure which in turn affected their performance. With the tournament finalists now a foregone conclusion, we decided to play a more relaxed game on Friday.
Indeed, when we returned to Melbourne from Hobart after the game against India, we did not have a practice session. The boys relaxed with a game of bowling and I think that attitude-with the pressure to perform off us- paid off.
I had played in all the previous matches and was asked whether I wanted to play in the final game. I opted to rest. I also believed that the other left-arm paceman, Chanaka Welagedera would play in the final outing as he hadn't played a single game on tour. Unfortunately, he did not play.
A few months ago Chanaka was being hailed as my successor and as one of the future spearheads of our bowling attack and I cannot understand his non-selection for any of the tournament games. I do believe that if a player is one of 15 selected to represent his country, then he should be good enough to play a game. We should not get into the habit of carrying passengers on tour!
Chanaka's case also illustrates the much felt need for a bowling coach to be on tour. There was some concern that Chanaka was struggling with his rhythm and bowling no-balls at practices and also straying into the danger area. If there was a bowling coach with us, these mistakes could have been sorted out, allowing Chanaka to perform. He is 26 and needs to learn as quickly as he can.
Having lost our chances of making it to the finals we had only our pride to play for in the final game. Even in this game the score was soon 61 for four after 20 overs but the middle order was able to resurrect the innings and put up a score which gave the bowlers something to work with.It was then that we were faced with the familiar situation of Adam Gilchrist taking the game away from us. But the blistering start he gave Australia, posting over hundred runs for the first wicket at over seven runs an over made our comeback all the more remarkable.
We were able to capture all ten wickets of the Aussies for a hundred runs through a disciplined bowling performance and the sheer determination to make amends for our otherwise dismal performance in the tournament.
In the final moments of the game, the dressing room was tense when Sanath was given the ball for the first time in the match with their last pair of Brett Lee and Nathan Bracken threatening to take the game away from us yet again with just 14 runs required from the last two overs.
I thought that Mahela's decision to bowl Sanath at that stage was a masterstroke and the world's most capped one day player rose to the occasion. He is a wily customer at the death of an innings and it is not easy to go after him. His first ball wicket to seal the match was indeed a fitting end to what was most probably this great entertainer's last game in Australia.
There was an atmosphere of jubilation in the dressing room after the game. Had we lost, it would have been one of the worst tours to Australia. Instead, we had succeeded in derailing the Australian momentum just before the finals began. Personally too I was happy for the boys because, like Sanath and Murali I knew that this would definitely be my last tour of Australia.
However, we are aware that our performances will be roundly criticized back home as it should be. But, it must also be remembered that this is a team in transition. There are quite a few fresh faces in the squad and they would require time to gain experience and perform consistently. All 15 of us must take responsibility. In that respect, I too know that I failed with the bat, though I did well with my bowling.
I am also aware that there have been allegations of player misbehaviour on tour. Strangely, such allegations surface only when the team performs poorly. I can recall similar allegations made against our team when we were knocked out of the Champion's trophy semi-finals.
Being on tour is not easy. We have to be focused on our game, we have to be in touch with our families despite time differences and we have to attend the many functions organized on our behalf. In Canberra, where there was a reception in our honour, we stood for 45 minutes signing autographs and posing for photographs without even having a soft drink-yet there were Sri Lankans who complained that we were rude and arrogant!
So, there will always be allegations, especially at a time when the team is underperforming. But they will remain allegations and nothing more unless they can be proved.
I believe the Cricket Board will examine these accusations and the facts before them before deciding whether anything needs to be done about it. The boys are all aware that they are fifteen cricketers representing twenty million people and that the spotlight is on them and I am sure they have acted with a sense of responsibility.
As far as we are concerned, our next focus of attention is the tour to the West Indies where we play two tests and three one day internationals within a month. We carry happy memories of the West Indies, having reached the World Cup finals there-and we are certainly confident that we can improve on our performances Down Under.