UNESCO-MAS alliance to educate youth on sustainability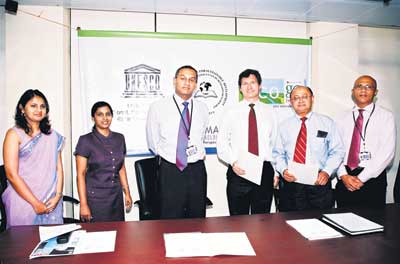 Standing from left -- Sarita Dunuwille (Legal Officer, MAS Group Legal), Sanjana Kuruppu (Manager, Eco Go Beyond & Sustainability), Ravi Fernando (Director, Corporate Branding & Strategic Sustainability), Neil Buhne (UN Resident/Humanitarian Coordinator), Ajay Amalean (Managing Director, MAS Corporate Solutions & Retail India) and Deepthi de Silva (Director, MAS Group Human Resources).
UNESCO Bangkok recently partnered with Sri Lanka's MAS Holdings to promote Education for Sustainable Development (ESD) in line with its decade for sustainable development spanning 2005 – 2014.
The company has entered into a memorandum of understanding with UNESCO to strengthen and upscale the programme. UNESCO will use the MAS sustainable development education model and operations base whilst MAS will benefit from the technical expertise, resource and credibility that the agency has in the realm of sustainability, according to a company statement.
Further to in-school workshops held under the Eco Go Beyond programme, the selected schools are currently working on applied learning projects which adopt a synergistic approach to "society", "economy", and "environment" in the context of home, school and the community. Each school taking part in the initiative identifies existing sustainability problems and designs its own project to devise the means to address the issue based on the learning gained from the workshops.
To spread the practice, UNESCO will also develop a toolkit that will allow replication of the project throughout the region. Beyond providing tips "to bring ESD to life", the toolkit aims to supply ESD providers with content and instructional methodology that can be utilized in local communities.
Developing sustainability mindsets is of particular interest to UNESCO Bangkok as it is for MAS Holdings which exhibits how businesses can take on the responsibility to educate employees, schools and communities. The MAS Holdings' Eco Go Beyond programme which commenced May 2006 provides 11,260 students in 30 schools in Sri Lanka a theoretical and practical knowledge of sustainable development.