The latest casualty in the Foreign Ministry's tussles with Sri Lankan envoys abroad is Daya Perera, who is High Commissioner in Canada.
The Foreign Office in Colombo, the Sunday Times has learnt, has sent a note — just two weeks' notice — to Mr. Perera that his resignation has been accepted with effect from August 31.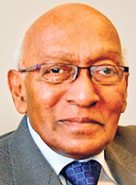 Daya Perera
However, sources at the Presidential Secretariat said Mr. Perera had not tendered his resignation from August 31. He had only written to President Mahinda Rajapaksa conveying his intention to resign from December 31 due to personal reasons. The sources said this letter had been forwarded to the Foreign Ministry for action.
The Ministry's note to Mr. Perera informing him that his "resignation has been accepted from August 31" has raised some knotty issues. One such issue is the return air travel. When an envoy abroad resigns, the Foreign Ministry is not obliged to pay for his or her air travel back home. In addition, they are also not entitled to air tickets for their domestic staff. This means Mr. Perera would have to pay not only for his own return ticket but also for two of his domestic aides.
Sri Lanka's Deputy High Commissioner in Canada will leave Ottawa this week and return to Colombo. He was re-called last month in the wake of the controversy over the issue of a visa to Bob Rae, the Liberal Party politician. Rae arrived in Sri Lanka on June 10 was detained at the Bandaranaike International Airport (BIA) and later deported.
Earlier, the Foreign Ministry recalled to Colombo Sri Lanka's Ambassador to the United Nations in Geneva, Dayan Jayatilleke. Though his term of office in Geneva was extended, the re-call order cut it short.
Sri Lanka's Permanent Representative at the United Nations in New York, H.M.G.S. Palihakkara, who was on a two-year contract, is also ending his stint prematurely and returning home. He has only served a year and had said he wanted to quit due to personal reasons.
In London, Deputy High Commissioner Sumith Nakandala was recalled with short notice and has been replaced by P.M. Amza, who was the deputy high commissioner in Chennai.
Daya Perera, one of Sri Lanka's leading criminal lawyers earlier served a stint as Permanent Representative at the United Nations in New York. He has told friends that he would prefer to return to law practice.
On Friday, the Foreign Ministry sacked the Minister's Public Relations Officer Bernie Elmo Leonidas. A US citizen of Sri Lankan origin, Mr. Leonidas was in the Foreign Minister's Bureau. All Sri Lankan missions overseas was informed of his removal by facsimile message, a procedure the Ministry had not adopted following the arrest of the LTTE international chief Kumaran Pathmanadan alias 'KP', a Ministry source said yesterday.