The bulky "log book" lies on the coffee table with hundreds of entries, meticulously noted in a tiny but neat fist. Some pages have sepia-toned photos, souvenirs of a by-gone era, and with each flick of a page, the memories flow……………Here are the Apollo 12 astronauts, Richard Gordon, Alan Bean and Charles Conrad with Arthur C. Clarke. One of them wanted to sit in the cockpit, so I traded my seat. We were flying from China Bay to Ratmalana. Apollo 12 was the second US manned mission to land on the moon.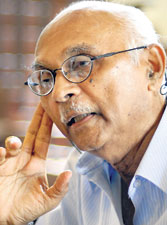 Edgar: A contented man.
....The trip with Yuri Gagarin (the first human to orbit the earth) was "insignificant". There was no time to chat. We picked him up at Ratmalana and dropped him off at China Bay.
....The visit of Pope John Paul II was memorable. We took him back to Italy on a special Air Lanka flight. In retirement in his cosy home at Negombo, it is a walk down the corridors of time for Squadron Leader Francis Edgar Cooray, now 74.
He was a callow youth of 16, still in school at St. Anthony's College, Panadura, having done a stint at St. Sebastian's College, Moratuwa, when an advertisement lured him to apply for a course that would see them being trained in England.
"We didn't know what we were getting into," he smiles, recalling the blur of events that followed. His application being accepted, he had to face an interview with the then Commander of the Royal Ceylon Air Force (RCyAF), Group Captain G.C. Bladon.
From among the yellowed memorabilia, Edgar pulls out a few books where one describes their recruitment: "Batch number three consisted of 10 young school leavers, hurriedly prepared for their initiation as budding servicemen by seconded RAF NCOs, who taught them the basics of wearing a uniform, marching and saluting officers. Two weeks later after a myriad of injections and vaccinations which were then mandatory for foreign travel, this group of youngsters left Colombo...."
The ship, Edgar remembers clearly even so many years later. "It was the P & O Liner 'Stratheden', he says and it took them 26 days to reach their destination. "We were free," he says, adding that thrilled to be let loose from home and family, the first thing he and the others bought were tins of cigarettes.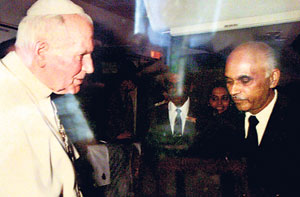 With the Pope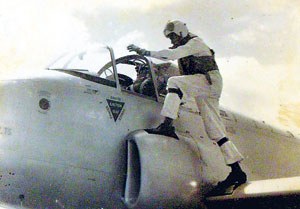 Ready to fly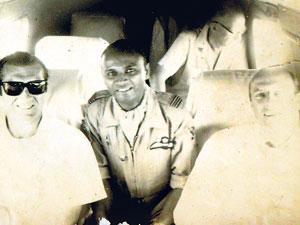 Edgar flanked by Gordon and Bean, with Arthur C. Clarke in the rear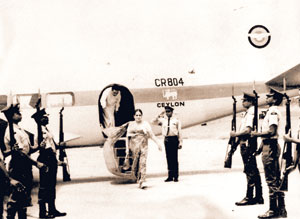 Sirimavo visits squadron to say thank you
The future was set, so he thought. The three-year aircraft apprenticeship over, it was back on the ship 'Chusan' heading for home.
While they were the pioneers of the aircraft servicing technicians, parallely the first local pilots were also being trained – Paddy Mendis and D.D.S. Seneviratne in England and Harry Goonetileke in Sri Lanka.
The first day of work, as put down on paper by 10025 LAC Edgar Cooray, recreates the scenario: "Double up, double up – You copper coloured rice eating native ……… You come back after a few years in England with a thundering bloody accent and think you are ….." had been the words of Station Warrant Officer Sergeant Jayawardena that greeted them at Katunayake on January 18, 1955.
Eight of them had been brought from Colombo in a three-tonner the day before and while attempting to settle down in their billets, the older hands had dropped by to make their acquaintance.
When one of the older hands, with "handle-bar" moustache had been introduced as Pilot Officer Upali Ratnayake, they had jumped to attention and answered his queries with "Yes, Sir", "No, Sir" until someone else had informed Ratnayake that he was expected for guard duty that night. Several visitors later they had realized to their chagrin that even their empty packets of cigarettes were missing.
Their duty at Katunayake entailed servicing aircraft before and after flights but what Edgar didn't know at that time was that this was not his destiny.
The RCyAF wanted more pilots and had recruited a batch of three outsiders, one of whom, Noel Lokuge, skyrocketed to fame as the first pilot to eject himself from a jet, and one from within the service itself. Three months later, the second batch was recruited as pilots and the serviceman who got in was Edgar.
"That was in 1960, followed by another momentous event in my life," smiles Edgar, for six months later he married Madonna, who has been at his side since then. Madonna's family had been introduced to Edgar by Walter Fernando, who later became Commander of th SLAF. He was our best man, says Edgar.
Of the three who joined for flying training, he was the only one who saw it through, he says, adding, "so there was no passing out parade, the Commander called me to his office and pinned the wings on my shirt pocket."
Do you know who my instructor in jet flying was, a new technique at that time, asks Edgar, answering, "Paddy Mendis, who also became Commander later".
It was during his flying career that then Commander Harry Goonetileke gave him command of the No 2 Transport Squadron and nominated him as one of the few pilots for VVIPs including then Prime Minister Sirimavo Bandaranaike.
"We flew her to the Maldives on a two-day trip," he says and stayed at the same hotel where she was put up. There weren't many hotels there then, he explains.
When Mrs. Bandaranaike visited the squadron to thank them for helping to quell the insurgency in 1971, it was none other than Edgar who flew her there and back. "We had ferried casualties during the insurgency operations in our fixed-wing aircraft," he says.
But the most important contribution during the insurgency was when "all of a sudden" he and a fellow-pilot were called upon to fly a small aircraft from airfield-to-airfield to bring back ammunition from New Delhi.
During his illustrious career, having flown 5,687 hours precisely, he resigned in December 1976 to do a short-lived stint with Air Maldives, coming back to Sri Lanka when the company folded up, joining the Sri Lanka Air Force on the request of then Commander ……. Harry Goonetileke to be in charge of Herons, Doves and Dakota DC-3s, followed by the post of Commandant of the Bandaranaike International Airport at Katunayake when civil aviation was brought under the mandate of the SLAF.
But for Edgar being in one place was not meant to be. The offer by the Chief of the Royal Oman Police, Felix de Silva, a Sri Lankan, to take up the post of Operations Officer of the Royal Oman Police Air Wing was irresistible.
His most poignant memories, however, are of Pope John Paul II whom he had the honour of flying back to the Vatican, along with another pilot, after his visit to Sri Lanka in January 1995.
"Air Lanka gave us a plane fitted with a special bed for His Holiness. Every time we passed a country we would call on radio and pass on his compliments," he says.
Now having fulfilled his dreams of flying, Edgar Cooray is a contented man, not only surrounded by his many souvenirs but also by many friends all over the world, with whom he is in touch every single day on e-mail.