In this fast-growing world of globalization where professionalism is a much sought after characteristic by multinational companies the CIMA professional qualification stands out. Achievers Lanka Business School is exceptional in that it not only offers quality CIMA tuition but also is committed to driving their students towards excellent results in a short period of time. This is largely attributed to personalize coaching and mock exams designed to test examination skills under simulated conditions.
In addition, Achievers is the only CIMA tuition provider in Sri Lanka that has a FAST TRACK programme for outstanding students which enables them to complete the whole course in just 3 months, allowing them to sit for Professional Level Exam in November 2010.
Achievers has further dedicated itself to producing dynamic professionals by awarding a mind-blowing 1800 scholarships for students who have passed with flying colours in the Ordinary and Advanced Level Examination to pursue CIMA. Achievers Lanka Business School has indeed proven its commitment to preparing today's youth to excel in our current competitive world.
Achievers Lanka Business School has launched its Young Achievers Program for students who have completed Ordinary Levels to encourage students to place themselves at a competitive advantage by being Advanced Level qualified and part of a prestigious professional qualification at a very early age. Students who are in the first 15 of their last term exam can join this programme to study CIMA. If there are students who are not in the first 15 and want to pursue CIMA they can attend an interview with the CEO of Achievers.
In our efforts to make quality CIMA education accessible to as many students as possible we have successfully established branches in Kandy and Kurunegala. Lecturers who are enthusiastic and committed to their student's excellence along with up-to-date resources are delivered to our Kandy and Kurunegala students just like their Colombo counterparts.
MAKE THE RIGHT CHOICE! JOIN ACHIEVERS!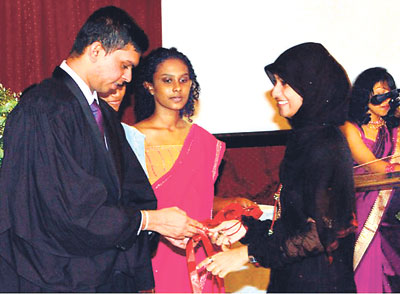 Zainab Badrudeen being awarded the Achievers Subject Prize Winner for CIMA Foundation by the Director of Achievers Mr. Senaka Kekiriwaragodage.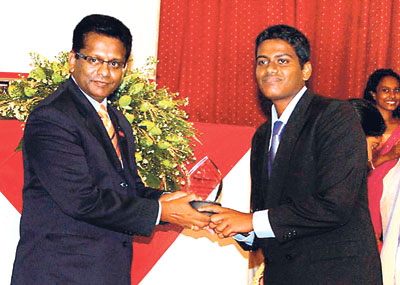 Maleen Abeydeera, the only World Prize Winner for May 2009 being felicitated by Mr. Bradley Emmerson, Regional Director for CIMA.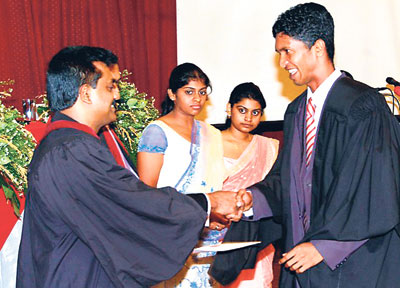 M N M Imran, one of 210 students who graduated from the Achievers Graduation Ceremony held at BMICH, being felicitated by the Chief Guest Mr. Udayasiri Kariyawasam, Chairman of Stock Exchange.
Keshanee Gunawardena, Sri Lankan Prize winner for TOP CIMA, being awarded a prize by the Country Director of Amba Research Dr. Naveen Gunawardane.