As the opposition's common candidate in the upcoming Presidential election, General (Retired) Sarath Fonseka yesterday visited the Jaffna peninsula, wooing voters in the North with a promise to "rebuild the broken links between Colombo and Jaffna".
General Fonseka was making his first visit to Jaffna since giving up his uniform. He was accompanied by Opposition leader Ranil Wickremesinghe, former Chief Justice Sarath N. Silva, Sri Lanka Muslim Congress (SLMC) leader Rauff Hakeem, JVP leader Somawansa Amarasinghe, Arjuna Ranatunga and several UNP Members of Parliament.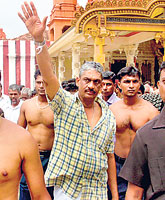 Gen. Fonseka at the Nallur Kandaswamy temple (above) and below left) with the Jaffna bishop
Dressed in checked shirt and white sarong, the opposition candidate began his day with a visit to the historic Nallur Kandaswamy Temple. A crowd of more than 500 people had gathered at the temple to greet the visiting delegation, some shouting in Sinhala "Jaya Wewa".
A group of businessmen had arranged for a popular song from a classic Tamil film to be broadcast from loudspeakers fitted to three-wheelers.
The opposition candidate looked relaxed as he spoke with reporters after visiting the temple.
General Fonseka later met the Bishop of Jaffna, Thomas Savundranayagam.
The bishop told the delegation the Tamil community made a grave mistake when they boycotted the previous election, and that this time they should exercise their voting rights.
Bishop Savundranayagam said General Fonseka was no stranger to the area, having served as the security forces' commander in Jaffna for four years. General Fonseka had a good understanding of Jaffna and the situation in the peninsula, the bishop added.
General Fonseka said he would ensure freedom of movement for the people in the North and reduce the extent of the high security zones without compromising security, thus helping the Jaffna citizens to resettle in their villages. He told reporters later that democracy would bloom in the country after January 26.
The delegation later visited Karainagar, where General Fonseka received a warm welcome at a function organised by the widow of the late UNP parliamentarian T. Maheshwaran, who was assassinated by an unknown gunman at a Hindu temple in Kotahena, Colombo, exactly two years earlier, on January 1, 2008.
At midday, General Fonseka and members of his delegation dropped by at the famous Yal Padi Hotel, where they enjoyed a meal of northern delicacies, including mutton curry, fish curry, fried fish and vegetables.
The opposition candidate's final stop was the Weerasingham Hall in Jaffna town. Applause and cheers greeted General Fonseka and his delegation as they entered the hall, which was packed to capacity.
In his address at the Weerasingham Hall, General Fonseka promised the residents of Jaffna that, if he came to power, he would reduce high security zone restrictions and free Tamil prisoners being held without charges. This announcement was greeted with loud cheers from the audience. General Fonseka also promised to upgrade the Palaly Airport.