The Koralaipattu North area of Vakarai on the East ern coast is now regaining normalcy after being under the control of the LTTE. Till recently Vakarai was only a name on the map as were places like Kadiraveli, Panichchankerni, Mankerni and Mattawan.
The region was out of bounds to fishermen for a long period as it was under LTTE control, but after the operation begun at Mavilaru to drive out the Tigers things have taken a turn for the better. The tsunami refugees most of whom were fisher families were confined to camps in the Batticaloa district during the time the LTTE controlled the area.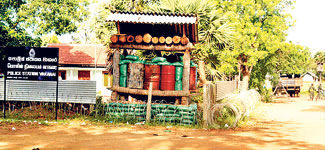 The police station
There are 30 villages in 16 Grama Niladhari divisions in the Vakarai area of Koralaipattu North with two Samurdhi zones manned by 30 officers. Though there were 18 schools in the area there was no schooling for the children during the time the Tigers controlled the area.
Schools are still closed and children help their parents in the fishing trade. The population in the Vakarai area was over 22,000.
The first former resident this correspondent met was a 76 year old woman identified as Sellapathiam.
She said she had come to the Vakarai area in 1968 and married a Sinhalese man named Christian Silva who had died in 1993. She has four children and her eldest is 58 now.
Shirani aged 27 whom this correspondent met on the Sallativu beach at Panichchankerni had come here from Hingurakgoda. She said she saw her husband being killed by the LTTE. She said her father Sirisena too was gunned down by the LTTE. She had fled with her children. Now she says that life has started again and she has found a new house to live in with her children.
This correspondent also met 35 year old Thavendram alias Kutti, now disabled and a former LTTEer. He had joined the LTTE in 1991 and helped launch many an attack on villages. Now a different man, he said that his trust was not in the Sinhalese but in President Mahinda Rajapaksa.
Life is normal today in the Vakarai area where a branch of the People's Bank, a Samurdhi bank, a hospital, a post office, a police station and a secretariat have been set up. There is a library too. The entire stretch of beach is now open to holiday makers.