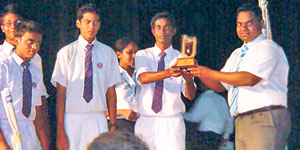 The Inter School Business Cup (ISBC) 2010 organized by the Department of Marketing Management, University of Kelaniya, was successfully held on July 12 at the University premises. Prof. Sarath Amunugama, Vice Chancellor, University of Kelaniya graced the occasion as the Chief Guest. The winner of this year's quiz was the team represented by Bandaranayake College, Gampaha.
They beat all the Colombo and leading schools in the country and had a tough fight in the final round to take the prestigious "Business Cup" to their school. The first runner up was Asoka College Colombo and the 2nd runner up was Carey College Colombo. Trophies and certificates to each participant of the winners, 1st and 2nd runners up and trophies for 4th and 5th places were given.
In addition, certificates were awarded to all the schools who participated at the event. In addition, all the participating schools were given a gift pack with the sponsorship of Unilever Ceylon Ltd. The competition was held with four rounds, first three rounds mainly focused on the students' knowledge about the business environment at a table quiz and the final round focused on creativity and team working capabilities of the students.
The event was successfully held with the participation of more than 50 leading schools including 15 Tamil schools island wide. The whole event was carried out by the Final Year students of the Department of Marketing with the facilitation of Mr. Ajith Mendis, Head, Department of Marketing Management and Mr. Maxwell Ranasinghe, Visiting Lecturer, University of Kelaniya.
Media coverage was provided by Sunday Times, Derana TV and FM Derana while leading companies such as Keells Food Products Limited, Unilever and Virtusa provided main sponsorships. Representatives of some of the sponsoring companies also graced the occasion.
The Department of Marketing Management, University of Kelaniya, hopes to continue this event annually with a view of giving its undergraduates a hands on experience on planning and implementing a major project under the subject "Entrepreneurial Skills for Marketers". Their main objective is to make this event the paramount business quiz competition in Sri Lanka.