"Tonight's gonna be a good night" this was the feeling all of them, the TKF Cowabunga team had, on Friday morning and yes! It was indeed a great night for all of them who participated.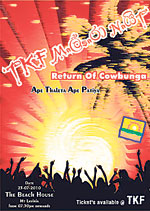 Dancing, music and food with the sea breeze filled their night while all of them danced and enjoyed the night as much as they could. Not only that, the bond of friendship has turned out to be a bond between brothers and sisters.
A big thank you going out to Mr. Failan Saleem, MD - TKF for the great support; he was not only our teacher, but also a friend, a father and a supporter in everything we did. Madura our sincere thanks to you too, on behalf of the team.
Last but not least, the team - consisting of Rochelle, Rumesh, Nimanthie, Nabiel, Shashika, Marini, Elmo, Sarah, well done, keep it up! - By Marini Nalakanda