The Bank of Ceylon (BoC) has introduced a novel retirement plan, referred to as the BoC Infinity Retirement Plan for those who are planning to enjoy a successful retirement where one has the advantage of saving according to your means in order to ensure that your retirement will be secure and comfortable. BoC Infinity is an affordable way to invest regularly over a period of time to receive an assured regular income during your retired life therefore it is one of the most efficient ways to provide for your future.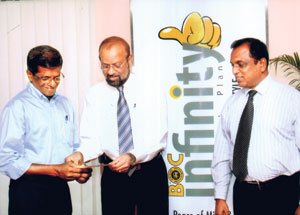 Dr. Gamini Wickramasinghe, Chairman of BoC is seen handing over a cheque to Mr. W.A.K. Wickramasuriya the 1st Pensioner to receive a pension under BoC Infinity, who is a customer of BoC Kaduwela. Mr. B.A.C. Fernando, General Manager of BoC is also in the picture.
This product caters to the private sector employees, semi government employees and self employed persons. Also it provides special retirement plans that are targeted towards, farmers, fishermen and rubber tappers etc. as well.
In addition, this spectacular retirement plan targets employers who like to contribute on behalf of their employees, those who already enjoy a pension scheme and would like to improve their cash flow, any Sri Lankan resident or non resident over 18 years of age as well as parents who would like to join the scheme on behalf of children or any relative.
Currently 84% of the Sri Lankan population does not have a proper retirement plan. An estimated 1.8 million Sri Lankans living overseas are also without a proper retirement plan. Having realized the need to introduce a pension plan that will directly cater to the needs of Sri Lankans living in Sri Lanka and abroad the BoC launched BoC Infinity where once you retire you can remain independent without much financial burden during your entire retirement life. This plan offers financial security to manage one's monthly expenditure whilst securing a regular cash flow during one's retirement. The Sunday Times Supplements Desk spoke to Dr. Gamini Wickramasinghe, Chairman BoC to find out the benefits of this unique retirement plan.
"Once you join BoC infinity you can simply transfer your financial burden of retirement life to us.
Also as your fund continues to grow it will enable you to enjoy the retirement you have always dreamt of. This product whilst being simple, flexible and affordable gives you a variety of options to choose from and you can contribute to the plan in an affordable way to reap your expected benefit.
Through this product, one could plan the exact monthly amount one requires to be paid during one's retirement and pay on a monthly installment basis or lump sums accordingly or a combination of both. This retirement plan assures you monthly payments during your retirement as per the agreed plan and one can choose to receive BoC Infinity retirement benefits either from the age of 55 or 60 depending on your retirement", says Dr. Wickramasinghe.
Individuals who want to go on a low premium can plan out this retirement plan to a shorter period time just after retirement such as 10 to 15 years. This enables you to pay any additional amount later on and extend this plan for life if required. In the case of an accident which leaves you in a position where you are unable to pay your monthly installments, your insurance company will pay the balance installments.
BoC Infinity retirement benefits can be chosen in multiples of Rs. 10,000/-. Individuals can obtain retirement plans according to a fixed period option or life benefit option.
Upon the death of the individual concerned if it is as fixed period option your nominee will be entitled to the balance benefits up to the agreed period. In the case of a life benefit option if death occurs within 10 years of the benefit period your nominee will receive 75% of the benefits for the rest of the 10 year period. In the case that death occurs after the 10 year period of retirement payment benefits will cease upon death.
With regards to monthly installments your contribution will depend on the option you choose and your age. Lump sum payments could be made in full or the agreed staggered amounts within 12 months. Also employers can join BoC Infinity on behalf of employees where the monthly installment can be paid jointly or in full by employers.
In the eventuality of death during the contributory period the retirement plan will be terminated and the total contributions will be paid to the nominee or the legal heirs together with interest, where in which the applicable interest rate will be determined at the discretion of the bank.
Also those who desire can invest in their provident fund or savings in BoC Infinity and be entitled to receive the benefits from the following month. The retirement benefit will be credited to the individual's savings account where it can be withdrawn over the counter, at the ATM or via fund transfer. Additional benefits of this retirement plan include a health cover which can be obtained by paying an additional amount; also a bonus payment will be considered depending on favourable market conditions. You can join BoC Infinity at any of the bank's 500 plus branches or extension offices which are conveniently located island wide also Standing Orders will be accommodated.
In conclusion Dr. Wickramasinghe said, "Today BoC Infinity is regarded as the most flexible retirement plan in the country, which assures you of the highest return in addition to security over the long run for your long term investment. So if you are looking for that retirement plan which offers you peace of mind and that much required financial security then look no further than BoC Infinity."