PIBT offers the BSc in Computing from the prestigious University of Greenwich-a State University in UK. This is an internal degree. The University of Greenwich won the 'Queen Award' in the year 2008. The Sunday Times interviewed Mr.Kapila Ranasinghe, Director/ CEO PIBT.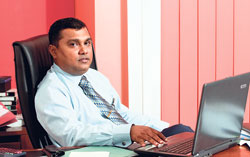 Kapila Ranasinghe
Mr. Kapila Ranasinghe is a high profile IT professional who has had many years of experience in the IT industry. He is also the Chairman of Quality Assurance Institute (QAI) (Pvt) Ltd. "The objective of PIBT is to supply well groomed IT graduates to the IT market in Sri Lanka as our country lacks competent IT professionals who are ready to face the complexities in the IT sector" says Mr.Ranasinghe. "All directors of PIBT are high profile IT professionals".
"PIBT consists of the best resource panel in Sri Lanka. The panel consists of senior IT professionals from the best IT Companies in the island. These lecturers have a lot of practical information which benefits the students. The lecture panel at PIBT is passionate about lecturing for the University of Greenwich, which is the 2nd largest State University in UK. The lecturers are in close contact with the students. The academic support given to students at PIBT is probably the best in Sri Lanka", Mr.Ranasinghe stressed. For the final year project management and implementation module, the students are sent out to the industry to gain first-hand experience, he said.
"These privileged students are guaranteed job placements even before their final results are out", Mr.Ranasinghe highlighted. "We are proud to announce that the previous intake had a 100% pass rate with 77% students obtaining 'classes'. This is certainly a remarkable achievement", he noted.
PIBT accommodates only a limited number of students per class, which is around 25. PIBT provides an all-round education to the students.
"We are proud of our students who have obtained their degree at PIBT and have later completed Master's and PHD programmes", he noted. Students who enrol with PIBT have the opportunity of obtaining a quality degree at an affordable rate. University of Greenwich offers scholarships to a certain number of students per batch. The placement centre at PIBT welcomes graduates from other universities to register.