British College of Business Studies (BCBS), a leading higher educational solutions provider is now under the guidance of a new Management. Mr. Pat Mohan, Director / Principal of Croydon Metropolitan College, United Kingdom, has taken over 100% of BCBS ownership. Previously BCBS was owned jointly by Mr. Pat Mohan and Mr. Suhanthan, Managing Director of KMS. Effective November 20 2010, Mr. Suhanthan has officially handed over his shares to Mr. Pat Mohan and resigned from the designation of Managing Director, BCBS.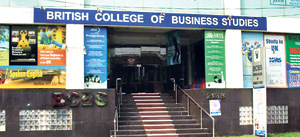 With the change of 100% ownership to Mr. Pat Mohan, and under his professional guidance BCBS will step towards a new world of educational services, corporate training and student recruitments to foreign Colleges and Universities. Having its own college in UK, BCBS will be able to support the students who want to study in UK in a better way.
Having collaborated with Regent International College, BCBS acts as the Colombo Study Centre for the Indira Gandhi National Open University (IGNOU) to conduct its International Programmes in Sri Lanka. Its MBA, B.Com and BA rate among the world's most recognized and affordable MBA and Degree programmes.. All these MBAs and Degrees are approved and recognized by the University Grants Commission of Sri Lanka.
University of Central Lancashire (UCLAN) directly recruits students from BCBS. UCLAN offers various disciplines for the Sri Lankan students to cater to their career paths. Some of the most popular areas of studies are Business Management, Bio Medical Science, Electronic & Computer Engineering, Law, Engineering and Interior Design.
The Chairman and the sole owner of BCBS, Mr. Pat Mohan states that he does not want to earn profits from BCBS, but to have a world-class institute helping Sri Lankan community in achieving their career goals. "We want Sri Lankan students to experience UK education systems and we have accredited several top level UK qualifications. The students can gain these world-class UK qualifications while studying in Sri Lanka" he added. Furthermore he explained his ambition is to award a number of scholarship programmes to Sri Lankan needy students who have the talent but need financial support. BCBS has already given several scholarships for students with highest A/L and O/L results to study at BCBS Colombo Campus and it will continue to do so. As educational experts of Sri Lanka and UK, it is our duty to take care of the future of Sri Lanka which is our children. "As always we want to provide leaders to the nation"
BCBS as one of the leading Abe centres in Sri Lanka conducts Certificate, Diploma and Advance Diploma in Business Management, Marketing, Finance, Human Resources Management and Business Information Systems. Recently it has added the Travel, Tourism & Hospitality stream. Intakes are now open for the next exams in June 2011. BCBS has the fastest track for their students who want to enter UK Universities only after the O/Ls. They can complete the foundation programme and within 6-8 months, they will be sitting in their preferred university in UK. This is a guaranteed and cost effective way in obtaining entrance to UK. This is the fastest, safest and the most reliable way to reach UK for education.
Being a responsible partner for the development of the country, BCBS understands the need of improving the English language capabilities of Sri Lankans. Some of the professionals who are experts in their areas are limited in competing with professionals in the rest of the world, not because of their knowledge but purely due to the lack of communication abilities in English Language. To cater to these needs BCBS has launched a series of English Language courses for both students and adults. These courses vary from Spoken English to Professional English and the most advanced teaching methods are used by our experts.