Their children are either teenagers or young adults. Even so many years later, there are sighs and tears not only at the insensitivity, nay downright cruelty of society itself but also at the absolute lack of facilities such as vocational training or residential homes for them.
Their tales are different but tragically similar, for they are the parents of special children who have been facing the battering that society dishes out to them in their neighbourhoods, on public transport, in the schools that they have with difficulty found for their children, the so-called "therapies and rehabilitation" offered for a fee and authorities who are both deaf and blind to their needs which are acute.
In one voice parents of the Nawa Maga Visheshitha Lama Padanama of Beddagana tell the Sunday Times that all across the country thousands face a similar plight. They may be having children with Down Syndrome, autism or some form of brain damage due to inaction or lethargy on the part of hospital staff during a prolonged delivery.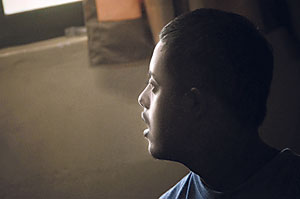 Ramesha.
Here at Beddagana 50 like-minded parents have come together to discuss the trials and travails they face and also garner strength from each other, while a similar group of 175 do so in Dehiwela.
"When I travel with my son Manojith by bus people look at me with distaste, as if I have committed a crime. No one sits near him or they will get up and move away," says Dr. Mala Padmasiri who has had to give up her home in Horana, a village setting and move to Mirihana, a town, to get away from the looks, the jibes and the taunts. "Pilikul sahagathawa balanne, sathek diha balanawa wage," she says, hardly able to keep the tears at bay.
Manojith, 21, was diagnosed as a Down Syndrome baby, just two weeks after his birth but there was no guidance as to where they could seek advice or help. Their happy world collapsed…….the joy of having a son vanishing and both Dr. Mala and her husband going into denial about Manojith's condition.
Three years later when they decided to have another baby, even the doctors dubbed her as the mother of a Down Syndrome first child. The second, a girl, was born normal and brother and sister are inseparable. While they persisted in attempting to get Manojith on the right path by entering him to a Special Education Unit of a government school, the sister gained admission later to the usual class there only to be taunted by both children and parents that her "aiya is in the golu panthiya". It was in desperation that they took the sister out and sent her to a different school.
It was not Down Syndrome that hit midwife Priyani Kolamunna when she gave birth to her Sahan 16 years ago. He was a breach baby but the hospital staff sent her through a "trial of labour". The baby looked okay, except for the head being slightly bigger, but as the days and months wore on didn't meet the developmental goals.
Trudging from hospital to therapy centre, Priyani sought early retirement to be with Sahan who was also prone to epileptic fits. Even after spending a lot of money, he still cannot write a word. "There is no eye contact, he keeps his mouth open and runs away scared when he sees someone," she says
lamenting that some Special Education Units are only keen to "develop" the unit by compelling parents to bring cement, desks, chairs or provide other facilities without focusing on rehabilitating the children.
He is good in sports and won many medals but now when he is put out of the Special Education Unit, what will happen to him, sighs Priyani
Namal Sanjeewa too gave up his job at the Department of Rehabilitation soon after he and his wife had Sakuni Sanjala now 15 years old. A long, long exhausting labour, ultimately ending in an emergency caesarian had left Sakuni brain damaged.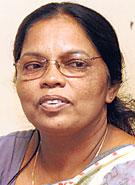 Dr. Mala Padmasiri
Namal who stresses that parents should be trained to identify the abilities and capabilities as well as the likes and dislikes of their special children is going from pillar to post to seek help for he fears for his girl's future.
He recalls how Sakuni loved to wear her uniform and head for school but suddenly one day held his hand tight and kept pulling him back as they neared the class, whispering, "Ammo". He was unable to get a response from her but was alert and found to his horror that the teacher, a master, was assaulting some of the other children. That was when he pulled her out of that unit and put her to another but it was like "inguru deela miris gaththa wage", he smiles wryly explaining that it was as if he had exchanged ginger for chillie.
The stories continue……..teacher Janaki Dissanayake and 17-year-old son Ramesha Wadanambe with Down Syndrome; Malini Hettiarachchi with 18-year-old Sashini Dilhani, brain damaged during birth and E.M. Kusumalatha with 23-year-old son Varuna Indika…….like the hundreds of others scattered across the country.
They can sing, they can dance and they too have certain skills and strengths which should be developed so that they can take their place in society. Or are they children of a lesser god, to be shoved to a corner and ignored, leaving the parents to deal with "their problem".
What of the future?
Dr. Mala answers for all when she says, "Future……it's a blank. We cannot die in peace, for what will happen to our children?"
A plea to the President
Help us, they plead to President Mahinda Rajapaksa as World Disability Day comes around on December 3. We will not hide our children or lock them up in rooms. Take our photographs and publish our names for we think the President does not know our plight but will step in when he realizes the situation, was the view of one parent echoed by everyone else.The challenge they face is many pronged – special children don't have adequate facilities for education as well as vocational training.
These children are put out of the few Special Education Units in government schools the moment they turn 16. What then? Home alone, alone with their parents with no rehabilitation, skills training or helping hand by the authorities.
When the parents are no more – there are shudders, for it is an unbearable thought. Without residential facilities, they will be left to their own devices.
Who cares?
Look for their strengths
Check out what your special child can do, without saying they can't do anything as most parents claim, advises many an expert who is dealing with disability issues.
Parents' guidance and support are essential from the very beginning, one expert said, citing the example of a mother who said that her child sweeps the house and arranges the furniture very well. Taking it on from there, this expert had suggested that the mother train the child to grow a plant, may be a flowering plant, after which the flowers can be sold to a shop, not only bringing in some money for the child but also helping the child to begin a self-employment project later on.
Conceding that parents need to be guided to think like that she, however, lamented that though there was a major focus on those who have become disabled as adults, not much attention was given by the authorities to special children and more so to those with mental disabilities.