Sudden thunderclaps are not only terrifying but also deadly; especially with bolts of lightning that precede them, which have claimed 21 lives between March and April this year. According to the Meteorology Department's meteorologist-in-charge D.A. Jayasinghearachchi, thunderstorms are the main characteristic of the prevailing inter-monsoon period.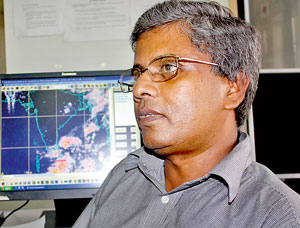 D.A. Jayasinghearachchi
"Thunderstorms produce lightning that is life-endangering. Dark clouds are a sign that atmospheric conditions for lightning could be present, but the important thing is to listen for thunder. If you can hear thunder, you are within striking distance. It is important to seek shelter indoors immediately," he said.
He said if the time interval between a lightning flash and the resulting thunderclap is less than 15 seconds, a person can be in danger, and that, lightning can strike from as far away as 10 miles from the rain areas in a thunderstorm.
Lightning killed 26 persons in 2008, 14 in 2009 and 33 last year. This year, 21 persons were killed from March to April. Only six persons were killed in April last year, while April 2011 recorded 17 fatalities.
Farmers were the recent victims of lightning, with most deaths taking place in paddy fields and open areas. The highest number of damages to electronic and telecommunication items was reported from urban areas.
Deaths were reported from Sevanagala, Dehiattakandiya, Ethimale, Tissamaharama, Avissawella, Angunukolapelessa, Dangolla, Dambulla,Deraniyagala, Medawachchiya, Matugama, Welikanda, Manampitiya, Pelmadulla, Akkaraipattu and Kayts.
In Medawachchiya, three persons including a 38-year-old woman died struck by lightning. In Matugama, a man died while riding his bike, while in Ethimale, the victim was driving a tractor. In Tissamaharama and Kayts, two people were killed by lightning while asleep in open verandahs. In Dambulla, two schoolchildren died using mobile phones outdoors during thunder showers.
Lightning struck the Galle Karapitiya Hospital telephone system on Thursday (28) with communication coming to a halt as all the phone lines were damaged. Sixteen computers at Zahira College, Akurana, were destroyed by lightning. Electronic items in 10 houses in Balapitiya were totally destroyed.
He said the present rainy condition during the daytime is due to the Inter-Tropical Convergence Zone (ITCZ) positioned above Sri Lanka.
"The ITCZ is a narrow zone near the equator, where winds from the Southern hemisphere and Northern hemisphere converge. This causes a low-pressure condition causing heavy rain throughout the island. Usually, the ITCZ can result in dry or wet weather . The present weather will last for a few days," he said.
Mr. Jayasinghearachchi said the southwest monsoon expected late May, will start showing pre-monsoon conditions from the beginning of May.
"Western and Southern coastal regions will experience daytime showers, while thundershowers will continue during the night, throughout the country," he said.
According to the Meteorology Department, during thunder it is not safe to be outdoors, on or near hilltops, in or near rivers, lakes or water bodies. It is best to avoid open spaces, not to use umbrellas, refrain from touching metallic objects stay away from cloth lines, fences and exposed sheds, riding bicycles and open vehicles.
It is also a must to unplug and refrain from using electrical appliances. Disaster Management Minister Mahinda Amaraweera said all measures have been taken to create awareness among the farming community, and instructions have been given to all Divisional Secretariats to provide Rs 15,000 as funeral expenses to affected families.
The Minister said based on a suggestion made by the Parliamentary Advisory Committee appointed to look into the possibility of telecommunication towers contributing towards the increased lightning strikes, a committee will be appointed, comprising eminent academics and professionals.
Coordinator- Disaster Management Unit, Polonnaruwa, Chandana Parakrama said the district reported the highest number of deaths, with one each from Dangolla and Manampitiya, and three from Welikanda in the Polonnaruwa district.
"We are using loudspeakers to create awareness among the people, especially farmers. It is not possible to request them to be away from the field, but we tell them to avoid being in fields between 4 pm to 7 pm. We have created awareness among relevant farming and welfare societies and schools" he said.