University of Ruhuna (UoR) and Hawaii Pacific University (HPU) recently signed an MoU in Colombo to collaborate in the field of Marine Biology. It's now possible for UoR students to transfer to HPU after completing the first two years at Ruhuna to earn a globally reputed degree in Marine Biology in USA with scholarships. Student and faculty exchanges would bring the two institutes and the countries much closer. Both universities are also contemplating offering a joint Master's in Marine Biology.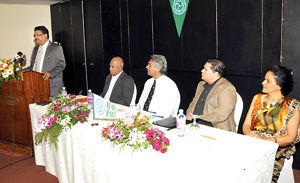 Vijaya Ratnayake President American Chamber of Commerce Sri Lanka addressing the gathering. At the head table are Prof.Susirith Mendis Vice Chancellor Ruhuna, Chad Schempp Director Graduate Admissions HPU Priyanthi and Padmasena Dissanayake of Scholarships for USA (Pvt) Ltd (www.scholarshipsforusa.com). Scholarships for USA represents HPU in Sri Lanka and this is the ninth such academic collaboration initiated by them in the past ten years with the aim of making US higher education increasingly accessible and affordable to Lankan middle class.
Speaking on the occasion, Vijaya Ratnayake, President of the American Chamber of Commerce in Sri Lanka (AmCham) stated that the Chamber was happy to be part of this historic moment where two reputed educational institutes from different parts of the world were getting together to work towards a common goal. Both Sri Lanka and Hawaii were countries that were surrounded by the sea.
The natural resources available to Sri Lanka from Marine sources were so great that it may not have been fully evaluated as yet. Developing knowledge in the field of Marine Biology would be of immense benefit to the country. Furthermore the student exchange programme that falls under the purview of this MoU would create an opportunity for knowledge sharing between the youth of the two countries and with this further strengthen the relationship between the two countries.
Amcham was a trade Chamber and its main objective was the promotion of trade and investment between Sri Lanka and USA. Education is also considered an investment and a very wise investment for the future of a country.
Mr. Ratnayake further stated that he was present at this occasion to share the success achieved by Scholarships for USA headed by Priyanthi and Padmasena Disanayake who were active members of the American Chamber of Commerce. They had been instrumental in facilitating this useful joint venture in the same manner that they had initiated and facilitated many similar projects in the higher education field. He concluded by expressing his best wishes to Hawaii pacific University, the University of Ruhuna and Scholarships for USA.