Science College, Mt. Lavinia is a school synonymous with rugby. The school was reformed in the early 1980s after government authorities merged the junior and senior schools which was known as Sri Satissara Maha Vidyalaya off Templers' Road. Today over 1600 students attend Science College. They have classes from grades one to 13.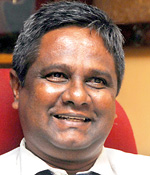 Ananda Nagasinghe - Principal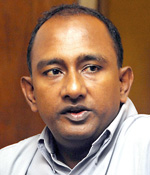 AP Jayasuriya - MIC/POG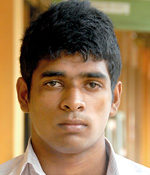 Nimesh Perera - Rugby Captain
Though Science has built up a reputation for being a school with a great rugby culture, other sports suffer due to many reasons. The school seldom attracts students for other sports, such as, cricket, football or karate. Science at present engages at seven active sports but according to its principal, Ananda Nagasinghe, parents of students are more concerned on the academic activities.
"Parents today are not all that interested in sports. They are more into tuition classes as they wish to see their children reach higher levels. But only a few understand the real value of sportsmanship," said Nagasinghe.
Out of 1600 students, just 200 are engaged in sports. Almost half of the 200 are in rugby squads. This situation has forced a sportsman at Science to do more than one sport. Apart from rugby which is Science's main sport cricket, football, elle, volleyball, karate, chess and carrom are other sports on offer. In addition to the handful of the students who are interested in extra curricular activities,they have been able to make their school proud at scouting and cadetting.
"We have our drawbacks as an emerging school in terms of facilities and other areas. But the biggest setback of all is the lack of participation from the students. When we are not in a position to provide the students sometimes the basic necessities, how can we force them to take part in sports? All of us have a balanced role to play here," pointed out the school's rugby master-in-charge and acting prefect of games, AP Jayasuriya.
The school which is situated on a plot of land that spans nine and a half acres received the best reward that could be thought of when their Old Boys Association (OBA) and well wishers worked hard to create their own rugby ground. The value of having their own rugby ground was well received by the rugby players. In return the players enthralled their followers with a stunning 12-11 win against Trinity last weekend.
Science has already produced over ten rugby players to the national level during its 33-year-old history. The game was first introduced by veteran coach Kamal Jayawardena in 1978. Jayawardena who went on to coach the school for nearly 25 years was over the moon of the historic outcome and recalled the harder days of rugby.
"A keen set of sports lovers helped me to start a senior rugby team in 1978. Science then was known by a different name and it had classes only from grade 10 upwards. They had no junior rugby and most of the players were newcomers to the game. We did not have even the basic facilities. The school playground was entirely gravel and was not suited for rugby at all. I remember the players walked with me for miles looking for Arecanut trees which we used as rugby goal-posts for many years.
That period was rough yet memorable. Today Science has a lovely ground and these are the results of the commitment of its past players who played the game with great interest," said Jayawardena.
The interest of Science's students for rugby on the other hand indirectly affects the progress of other sports. The similarity of the number of members of the rugby squad and the rest of the sportsmen of the school proves this. However the school authorities have a major role to play in promoting extra curricular activities. The authorities yet find it hard to convince the students and parents to obtain their commitment for sports related activities.
"We conduct orientation programmes and workshops for students and also the parents to show how important it is to engage in extra curricular activities. But still the parents opt not to encourage their kids for many reasons. This has hampered our attempts in reviving other sports. But rugby has the usual turnout from the students which is encouraging," Nagasinghe stated.
One of the main reasons for this setback, according to Nagasinghe, is the family background and the surroundings of the students. Majority of the students come from middle and low income families where the parents find it difficult to support their children other than at studies.
"We introduced a couple of indoor sports like chess and carrom recently. Both sports have attracted many students who were earlier not into any extra curricular activities. This is a clear indication of what these families lack, which is the financial setup. Most parents are not financially well off and big sports like rugby, cricket and football which need quite a lot of spending are not being encouraged," he further added.
Additionally Nagasinghe pointed out a few loopholes in the educational system that discourage students from emerging schools like Science from taking up sports. "Parents push their students for studies as they feel that it is the only way their children could get out from their present living conditions. The educationalists say that every child of the country should be given equal rights when it comes to studies and sports. But the failure of the higher authorities to include a points-scheme at selection examinations for students who do sports has given them the simple way of thinking that sports activities is just a way to spend the time during schooldays."
"In addition many students leave Science for better prospect after the grade five scholarship and GCE O/L examinations. These bright students enter popular schools and make a good name. The parents praise the tuition classes and these institutions for the successes of their children. Our services are not even remembered. As a thriving educational institute, Science is always at the same place and the school does not progress as a result," Nagasinghe emphasized.
With such great setbacks Science is making headway in their main attraction which is rugby. The strong OBA support and the backing of their past players is a great boon to spread their name along the country. With all hurdles posed around their future progress, Science is looking forward to energize their students for more sports activities.
"We need to see a big change in the attitude of the students and parents. We are planning to continue with our orientation programmes for them in order to break this barrier. As with rugby we are looking at creating good teams for our cricket, football and other field sports teams. At the same time we have plans to expand our ground into a multi sport venue where apart from rugby, cricket and other sports also could be played. We need financial assistance for these projects and with our able OBA and the Schools Development Committee, will very soon start working on them," stated Nagasinghe.