Lanka Institute of Fashion Technology (LIFT) the premier institute for fashion education in Sri Lanka which has reached its 11th successful year is well focused and ready to offer more opportunities for students in the future. New courses and career pathways are just waiting to be offered this year.
"As a designer and a business professional graduate from India and UK, I brought this education pathway (Fashion Design) to our country for our future generations. Designers nurture ideas with time and experience, understanding the pulse of the retail market. LIFT is dedicated to develop the hidden talent of aspiring designers of the future and it equips students with a broad range of skills relevant to fashion design. Our links with the University of Northampton UK and Robert Gordon University Scotland offers international scholarships up to 25% and higher entries for completing the BA(Hons) fashion at the respective Universities.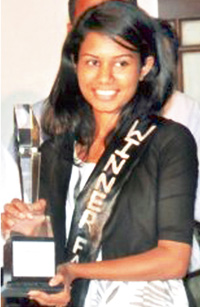 Ramyani Rathnayaka
The latest technology that LIFT offers through our courses makes students gain many opportunities around the world in the fashion industry. It's quite interesting to know what LIFT students have to say about their experiences during and after their studies at LIFT" Niroshani Leanage - Managing Director
"Since my childhood days it has been a dream of mine to start my own business some day. I chose fashion designing because I had a keen interest in sewing. But I was in no doubt in choosing my career path because I knew it would help me to pursue my dreams. I joined LIFT in 2010 and followed the Diploma in Fashion Designing. I did not have much knowledge of the fashion design industry before I joined LIFT.
The way in which the course and its subjects were structured helped me to understand the very basics of designing and the process. Subjects such as Illustration, Pattern making and manufacturing helped me to improve my practical skills. The collections we had to do at the end of the course gave me the opportunity to put together my creativity and imagination to create my designs.
I always had the opportunity to approach my lecturers whenever I needed any guidance or advice. We were always encouraged to keep our uniqueness and originality in our work.
I won the Designer of the year - 2010 competition organized by the Chamber of Commerce (Central province)" - Ramyani Rathnayaka
"My inborn talent for creativity led me to be a fashion designer.
After I did my A/L I completed my Diploma in Textile Management and continued it up to my degree in Applied Science. Meantime I started a designing firm named "Sankalan" and through my first effort I was lucky to come into the limelight in different fields. I was able to create designs for song video visuals for many popular artists, for advertisements and dancing costumes for leading dance troupes.
The knowledge I gained from my degree helped me immensely to have a good idea about technology and materials of textile. But still my inquisitiveness to learn more about fashion designing was growing inside me. As a result I started to search for the right place for my purpose. From all what I heard I felt Lanka Institute of Fashion Technology (LIFT) was the best place to quench my thirst for knowledge. And today I'm really proud of myself because LIFT was one of the best decisions I made in my life. From LIFT I gained a lot of knowledge and experience in designing. It was the place that sparked my creativity. And for me LIFT is like my own home and I found my very own family there too.
The friendly environment and colleagues changed my life and gave me much support. All the teachers are very friendly. At present I work as a fashion designer and costume maker in famous reality shows in many TV stations and get the opportunity to work with many popular characters, actors and actresses that I never dreamt of. It is quite a different and precious experience that I get in my career. In my busy life LIFT has always helped me to balance my work and education. I am really grateful to LIFT for strengthening me to stand as a professional fashion designer. And I wish a long journey for LIFT to sparkle the hidden creativity of many more students". - Venuka Wickramaarachchi
LIFT is always dedicated to nurture creativity and make pathways for young individuals to carve their niche in the fashion industry. LIFT will unveil its concept of promoting designer labels in June 2011.