It takes a special kind of person to help others and not expect any acknowledgement or recognition. Helping others as good Samaritans; Sri Lanka has been blessed with several altruistic individuals who over the years, have dedicated their time and effort to helping the less fortunate, differently abled, senior citizens, orphans, invalids and victims of the tsunami and war, to name a few.
Honouring these individuals for their extraordinary contributions to society, the International Year of Volunteers (IYV) +10 National Steering Committee together with News First, organised the V Awards. The V Awards, is a project by which those individuals will receive recognition for their tireless work, showing them that their efforts have not gone unnoticed and underappreciated. The goal of the V Awards is to inspire others to help society as well.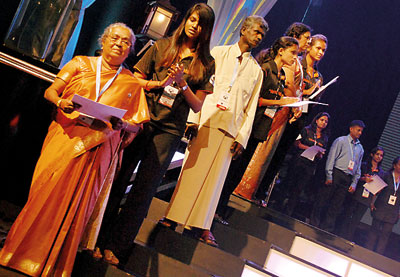 The ceremony to announce the shortlisted nominees. Pic by M.D. Nissanka
Fadhil Bakeer Markar, National Coordinator for IYV+10 says the committee was asked to work on four pillars- recognizing, facilitating, networking and promoting. "We noticed that there was a large gap in terms of 'recognising'. So the V Awards is about recognising these individuals and inspiring the nation to volunteer," explains Fadhil.
Fadhil shares that the committee was overwhelmed by the applications they received as they had not expected such as an enormous response. "The application was a strict process," he elaborates, "it had to be by someone who knew their [the nominee's] work, they had four long questions to answer and had to provide a character certificate." More than 400 applicants took pains to fill all the requirements as well as providing video footage and photographs of the nominee's work and hand it over to the IYV+10 committee.
Making a shortlist of 26 from the 400 odd nominees, the judges searched for projects that were sustainable, innovative and relative to the age and location of the individuals. "The judges looked for people who have done much more than what an average person would do."
The eminent judges included Prof. Somasundaram Sandrasegaram, Deshabandu Mrs. Jezima Ismail, Dr. Vinya S. Ariyaratne, Mr. C Jayaratne and Ms. Sunethra Bandaranaike and after 'a long and increasingly difficult process' 26 and later 15 were selected. The 26 shortlisted were announced and celebrated at a ceremony on December 5 at Stein Studios (MTV/Sirasa) in Ratmalana. The finalists are Dr. Sinniah Thevananthan (Colombo), Lakshmi Rathnayaka (Colombo), Dr. Kapila Kumara Gunawardana (Kandy), Dr. Gamini Goonathilaka (Colombo), Kushil Gunasekara (Colombo/Galle), Pearl Marigold Gorge Stephen (Kandy), Sharmini Perera (Kandy), Heenbanda Hettiarachchi (Annuradhapura), Damitha Senaka Karunaratne (Colombo), Kumarawathi Darmarathne Nakathegedara (Matale), Mohommad Ismail Udamma Lebbe (Ampara), Palitha Gunasekara (Colombo), Srimathi Chandralatha Munasinghe (Rajagiriya), Malindu Udawatte (Colombo/Killinochchi) and Sanmuga Senthurarasan (Vavuniya/Ampara). The final awards ceremony will take place on January 21.