Ministry of Crab
A sms beginning 'Dear Minister' confirms your reservation at the Ministry of Crab. Taking up a corner of the wonderful old Dutch Hospital building in Fort, the restaurant is a partnership between Darshan Munidasa of the Nihonbashi and Sri Lankan cricketing icons Mahela Jayawardene and Kumar Sangakkara. Sri Lankan crabs are famous the world over, unfortunately, locals are denied prime specimens, the best of which are shipped out to countries like Singapore.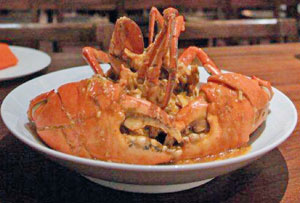 Pix courtesy Ministry of Crab
In an almost patriotic gesture, the owners are now keeping some of that prime catch back for us. At Ministry of Crab, you're served only export quality crabs, the largest of which is larger than your head. Darshan is often in the kitchen himself and seems to have opted for simplicity – presenting his crabs cooked to perfection in simple recipes that showcase each tender morsel. Little in the way of cutlery and a large bib are good indicators that you can leave your table manners at the threshold. You can download the full menu and get a handle on the prices at www.ministryofcrab.com
Yarl Hotel
(Almost) everything comes in shades of hot red at the Yarl Hotel – note the 'r' in the name, it's what sets it apart from the much fancier (and perhaps cleaner) Yaal Hotel. The one we're talking about is nestled into a little hole down Station Road in Wellawate. The crabs here are a respectable but not jawdropping size, what should win your adoration though is the spiciness of that signature chilli crab.
On his BBC Far Eastern Odyssey series, Rick Stein famously claimed it was the best crab he'd ever eaten. If you dare, sit down for a Jaffna meal at Yarl with 3 vegetables, a dhal, and coarse red kekulu rice. You can add on a portion of crab for approximately Rs.300/-
The Crab Company
Taking things up a notch, The Crab Company also serves export quality lagoon crabs. However, they have a slightly different game plan – for starters you have to order at least 3kgs, and you have to do it a day in advance. In exchange they're relatively reasonable and will throw in free delivery within Colombo city limits. On their menu is a Sri Lanka crab curry with murunga leaves, Singapore-style chili crab, Thai pepper crab and if you'd like to savour the meat alone, a steamed crab with dip. Prices vary from Rs.1500/- to Rs.2200/ per kilogram depending on the size of your crab. Find out more at http://www.facebook.com/pages/The-Crab-Company
Amaravathi
Is the Amaravathi in Sri Lanka a distant relation of the famous restaurant in Chennai? Their food certainly looks similar – dishing up a confused mix of South Indian and North Indian cuisine, with some Sri Lankan dishes thrown in for good measure. At Amaravathi, the crab comes served in a spicy curry and makes for a lovely meal with a side of creamy curd rice. Slip some pickle and a piece of crunchy papadam in there and you have a mouthful to salivate over. It's located down Mile Post Avenue in Colombo 3 – call in advance on 011 257 7418 to check if crab is on the menu that day.
Seafish Restuarant
Easily missed if you aren't keeping an attentive eye out for it, 'Seafish Restaurant' is located behind Regal Cinema down Sir Chittampalam A.Gardiner Mawatha, Colombo 2. Its been serving up seafood dishes since 1969- and one of those dishes is a winning chili crab for Rs. 690 ++.
Their chili crab is not for those who aren't partial to our local standards of spicy food. It's cooked to perfection in intensely spicy chili mix which blends well with the sweet crab meat. The restaurant is open for lunch between 10am to 2pm and dinner between 6pm to 11pm. For more information check out their blog- http://seafishrestaurant.files.wordpress.com