"Floreat", an outdoor musical extravaganza earlier scheduled for this evening has been postponed for tomorrow (Monday, January 9) at 7.30 p.m., at the Royal College grounds, Reid Avenue, organisers have announced.
The stars of the show, Bathiya and Santhush, have succeeded in adding to the glittering round up, a childhood friend in the form of Sri Lanka's own opera, singer Soprano Kishani Jayasinghe.
"We had been in touch about it from the very beginning" says Kishani as she flashes her trademark 1000 watt smile, "but we were not sure we could fit it in with my performing schedule".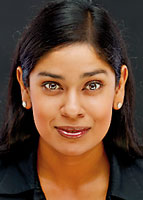 Kishani Jayasinghe
"The timing was a little tricky. I was just finishing a run with Glyndebourne Touring Opera in the UK and was scheduled to begin rehearsals for a new operatic commission which will premiere in Switzerland next month. Thankfully however it all fell neatly into place and here I am. It seems an unusual type of concert for a soprano to partake in and Kishani was quick to point out the loyalties that brought her home at such short notice (she only arrived a few days ago).
"Bathiya and Santhush are childhood friends and we have a lot of history together. Being international pop stars, they are huge icons of our cultural landscape and I have always loved the thought of combining our talents and diverse musical styles.
When this opportunity was proposed, I just couldn't resist! In addition to that I feel I am a honorary Royalist myself" She says with laughter. "My father was Secretary of the RCU for five years and is now a Trustee. My brother was captain of the College Rowing team and played Rugby for the 1st XV. So it's no surprise I learned the Royal College song before I even started school at Visakha! As such, having the opportunity of working with Sri Lanka's two brightest pop stars and being able to do so in aid of a school very close to my heart, there was no question I would do everything I could to make it work".
How will she tackle being an opera singer, joining a predominantly pop line up? "It will be a new experience for me, but the Masters have been doing it for a while. Think of 'Pavarotti and Friends' and you know where we are going. On this occasion however, I will check in my grand opera hat and step out with something more interesting-I hope! The highlight of the evening for me will be duetting with my old friends after many years". The Sunday Times and Daily Mirror are the print media media sponsors for "Floreat".
The Magazine of the Sunday Times mentions that the show was to be held tonight. This section of the Sunday Times was printed before the change of date made by the organisers and hence gives the original date of the concert.