Conversation flowed unabated through the week – in crowded coffee shops, in restaurants and pubs, down street corners, over drinks, in living rooms and in offices over lunch. In Sri Lanka and in India. Two nations, one common thought. Have we reached the bottom of the cricketing world? Or come tomorrow, will we find a new low? Can it get any worse? A question asked many times earlier, only this time with the clear knowledge of the heart-wrenching response.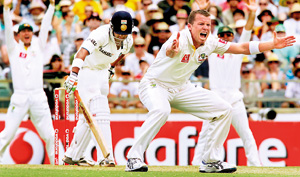 Australian fast bowler Peter Siddle (R) appeals against Gautam Gambhir (C) during the third cricket Test match against India at the WACA ground in Perth.- AFP
Between South Africa and Australia, the real titans of modern day cricket, Sri Lanka, and more so India, is being taught valuable and ironically similar lessons. One miserable afternoon in England in 2011 lost Sri Lanka an English series, and now, one ODI innings in South Africa, their pride. But Sri Lanka can take heart. There was the comeback Durban test match that made Sri Lankan hearts proud. And for sure, there will be more to come.
What about India? Cricket commentators have nothing new left to say, writers are running out of new things to write, and viewers feel like they are watching re-runs over and over again of a one-sided miserable script. India lost their pride in England, salvaged some at home and is now well and truly burying it under an over-burdened captain Down Under.
India has done much for the commercial well-being of world cricket in recent times, no doubt about that. They brought in IPL, which distributed hitherto unheard of amounts to the worthy international players. Their overall approach to marketing was a B - school case study in monetization from sale of broadcast rights to team and tournament sponsorships to format adaptations. They have been welcome touring guests for this one reason to many a country.
Yet, this much-touted weight clearly matters to nothing on the field, as is being repeatedly shown. The combined net worth of the Indian team members would put many a top industrialist or even a large corporate house to shame, but, quite clearly, and sadly, not the opposition. First England, and now Australia, has thrown up what can only be said as the cumulative effect of a wonderfully run, well-oiled financial set-up unable to find a balance for the excessively burdened and now aging Indian line-up. India cricket has seemingly forgotten how to operate in foreign shores in difficult conditions. Any lessons thrown up from England have been masked with the interim successes at home. Too many big names are involved; it has become too difficult to ask the hard questions and to take the tough decisions. It has now become just a matter of waiting it out and of course, hoping.
Perth and the WACA were always going to throw up challenges. One look at the green top only confirmed the worst. When Australia won the toss and promptly put India in, their backs were already to the wall. The only surprise in the outcome remained the pitch, which turned out to a fair wicket for batsmen too, as shown by Australia later in the day. Only the Indian batsmen did not agree. After proving their eye by successfully making contact to everything outside the off-stump, much to their peril, they were bundled out for a paltry 161.
The demons in the pitch were fast exorcised by the next big game changer in the league of Jayasuriya and Sehwag, David Warner, scoring the fastest century by an opening batsmen. A re-developing Australian side, hitherto struggling, an out-of-form Ponting, and a relatively untested bowling line-up taking on an experienced and highly ranked Indian team, who have packed their bags for Australia, but left behind the guts and determination to slug it out, has so far proved to be a no contest.
Again, as at Sydney, the test match seems to have been decided on Day One, save a miracle arising out of the combined power of a billion prayers and some Australian hara-kiri. For many of the senior cricketers who have served India well, this is a sad swan song. Yet, there is still some time left for them to put their heads down and show the way. The world has seen, in times bygone, what they are capable of. Now they need to prove that the best XI is out there, as is being claimed. As for the brasher of the finger-happy youth, the ones supposedly being groomed, a lesson in humility is well in order, and some time out of the cricketing side may not hurt at all. Fortunately for India, IPL has thrown up considerable talent and there has never been a greater need or a better time to test the bench strength. If there were any doubts on player burn-outs, the captain's announcement of his possible retirement from test cricket in 2013, at a relatively young age of 31, is ample testimony of the stresses and strains on the Indian cricketer.
And as another million dollar cricket endorsement contract is being prepared in a building in Nariman Point, Mumbai, ready for signing, we can all smile at the ironies of life. After all, life is not so harsh. Success is rewarded, but in the cricket world of India, failure too!