Favourites advanced to the pre-quarterfinal stage after recording convincing wins in the Women's Singles at the 24th Federation Cup Carrom Tournament at its new headquarters in Maharagama yesterday.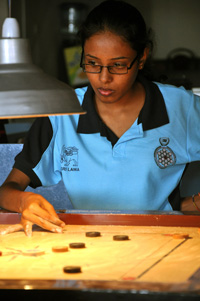 Chalani Lakmali who drubbed S.A.U. Sarangi in straight sets slices her way to victory. (Pic by Amila Prabodha)
The first round matches were played yesterday with national players and hot favourites beating the underdogs easily. Almost all the matches were one-sided except for a couple of games where opponents of national player Yashika Rahubadda and Madhuka Dilhani reached the best points despite losing their respective games. Rahubadda beat Hansani Apeksha in straight sets recording 25/15 and 25/9 wins while Dilhani experienced stiff opposition from T. Himahansika who lost both sets by narrow margins of 25/10 and 25/15.
Today the Women's Singles will be played up to the semi-final stage starting from the pre-quarterfinals. The 24th Federation Cup kicked off last week with the Men's Doubles which was won by Nishantha Fernando and Brindley Wickremasinghe who went on to beat Ajith Chandrasoma and Tharanga Kelum by two sets to nil in the final. The winning pair recorded 25/15 and 25/9 points wins in respective sets. The Men's Singles, Mixed Doubles and Veteran's Singles are scheduled for the following weekend. The tournament will continue till January 29 with matches scheduled on weekends.
Results:
Women's Singles: Chalani Lakmali beat S.A.U. Sarangi 2-0 (25/1, 24/9), Dilka Joseph beat Naveesha Dewmini 2-0 (25/1, 25/0), Sasheeka Sandamali beat Madhawee Ranatunga 2-0 (25/0, 25/0), Leela de Silva beat Kavindya Gayashi 2-0 (25/8, 25/7), Arosha Wickremasinghe beat Chamathka Navodya 2-0 (20/9, 25/3), Udeshika Kumari beat Upekshika de Silva 2-0 (25/7, 25/0), Kalyani Amarasinghe beat Sadini Nirasha 2-0 (25/1, 25/4), Roshita Joseph beat Devini Pabasari 2-0 (25/2, 25/7), Yashika Rahubadda beat Hansani Apeksha 2-0 (25/15, 25/9), T. Sammani beat Kavitha Lakmini 2-0 (25/0, 25/0), Nayanji Asokamala beat Kumari Warnasuriya 2-0 (25/2, 25/3), Nurani Nimesha beat Ashini Abeysekara 2-0 (25/4, 25/5), Mihiri Gunasekara beat Reshana Puthra 2-0 (25/0, 25/0), Madhuka Dilhani beat T. Himahansika 2-0 (25/10, 25/15), Rebecca Dalrene beat Gayani Ranasinghe 2-0 (20/14, 20/12), Madhushika Kanchanamala beat Bhagya Pitumali 2-0 (25/4, 25/0)
Men's Doubles:
Final: Nishantha Fernando / Brindley Wickremasinghe beat Ajith Chandrasoma / Tharanga Kelum 2-0 (25/15, 25/9)