It's time to take stock. The chips are down. The coffers are empty. An underperforming team. A new cricket management at the helm groping in the dark pondering as to how they are going to put Humpty together again.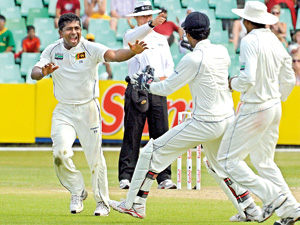 Rangana Herath celebrates taking a wicket in the Second Test which Sri Lanka won. This has been the only Test triumph for Sri Lanka in the current South African tour.
First it is cricket. Because it is the most important ingredient in this beggar's soup. Sri Lanka who was once among the top rankers of Test cricket in 2007/08 is at the moment with the poor relations crouching down at number six. The list of performances in world cricket at the moment reads as – England, India, South Africa, Australia, Pakistan, Sri Lanka, West Indies, New Zealand and Bangladesh while Zimbabwe has not played enough Test cricket in their comeback for consideration. Mind you during its slide to number six position Sri Lanka lost their Test series to England, Australia, Pakistan and South Africa from January 1, 2011 to now.
This is a point for concern indeed. Even the puppy in my house knew that one-day Mr. Match Winner Muttiah Muralitharan was going to hang his boots. What were the remedial actions that the cricket authorities took to combat this situation? What we can see is that the selectors and the rest of the machinery have taken the easiest way out. They just put their hand across their chests and beat out bellowing "We have no new talent without Muralitharan".
Yet with wrong selections like to name T.M. Dilshan as captain and drop Thilan Samaraweera for the Pakistan and South African tours and also dropping a yielding bowler in the calibre of Suraj Randiv have helped the Lankan slide move at the speed of light.
Thilan Samaraweera's air drop into the side as a cover for Mahela Jayewardene proved one point. Samaraweera became only the third batsman from the sub-continent to score two centuries in a series in South Africa, after Azhar Mahmood and Sachin Tendulkar. If the timely intervention of some influential former cricketers at the eleventh hour who convinced Sports Minister Mahindananda Aluthgamage to include Samaraweera put some fight into the flagging Lankan side in South Africa. If not we wonder how the results of the tour would have read.
In the same breath we also add that the way the selectors have handled Suraj Randiv is wrong. The way that they have handled him has apparently put huge doubts into Randiv's own mind about his wicket taking ability at that level. We know how the machinery builds up bowlers and kill them owing to their whims and fancies. Randiv is clearly becoming a victim of that circumstance.
On most occasions bowlers in Test cricket hunt in pairs. Like the Dennis Lilee-Jeff Thompson, Wasim Akram-Waqar Younis, Courtney Walsh-Curtly Ambrose, Shane Warne and Glen McGrath the Lankan pair of Muttiah Muralitharan and Chaminda Vaas hunted in pairs. It was these two bowlers that really transformed Sri Lankan cricket from a run of the mill entity to a champion combination. With these two bowlers in the side any batsman who donned pads for Sri Lanka had the guts to face the opposition as they knew that Sri Lanka also possessed an arsenal to combat any situation in bowling.
However it also must be added here very strongly that Muttiah Muralitharan was given a hero's farewell while Sanath Jayasuriya orchestrated his own farewell in England, but, since Vaas played his last Test match against Pakistan in 2009 the respective selectors very stubbornly refused to consider him. Doesn't an illustrious cricket in the calibre of Chaminda Vaas be considered for some accolades? He deserves it.
Chaminda Vaas made his debut is 1994 and for fifteen seasons and took part in part in every type of cricket. Though he played till 2009 and we can not remember Vaas missing a match owing to injury. Yet, we pick the tab from late 2007 when England played an away series in Sri Lanka. In that series Vaas shared the new ball with Lasith Malinga. Now Vaas is sacked and Malinga who is a law unto himself has retired from Test cricket.
Since then thirteen other fast bowlers have got their Test numbers on their white shirts. Dilhara Fernando* unlike Randiv – a bowler who was stubbornly nurtured by the system, Chanaka Welagedera, Thilina Thushara, Ishara Amerasinghe, Nuwan Kulasekera, Dhammika Prasad, Angelo Mathews, Suranga Lakmal, Thisara Perera, Farveez Maharoof*, Shaminda Eranga, Nuwan Pradeep and Kosala Kulasekera. (* Dilhara Fernando made his Test debut in the year 2000 and Maharoof made his Test debut in 2004.)
Out of the present breed of seam bowlers who are in contention Dilhara Fernando is by far the lead figure. In spite of making his debut in 2000, Fernando has played in only 39 Tests and taken 97 wickets. Until then Dilhara Fernando was a 'on the shelf bowler' who gets picked for every tour and kept 'just in case'. However while leading the pack during the South African tour Fernando looked quite impressive and gave the best performance in his decade long career. Yet, like the rest of the new fanged seamers in the Lankan larder Dilhara could not last the Three Tests.
This has been the bane of Lankan cricket of late. No bowler who comes into contention lasts. Chilaw Marian Shaminda Eranga played one Test match against Australia and came up with a very impressive performance, but that was the only Test match he played. Reportedly he is on the injured list.
Then much talked about Nuwan Pradeep broke down in England before he began his career. Then he was given another go in the Middle East against Pakistan and in that game his naivety got the better of him and he was dropped. But, reportedly he is now injured.
Angelo Mathews came into the side as an all-rounder, who could be the catch point in the Lankan attack where they would have the luxury of playing two spinners and three seamers, but today he is injured and hardly bowls and that option is squashed.
Who recommended Thisara Perera to play Test cricket is still a puzzle to me. This leaves the Chanaka Welagedera – Rangana Herath combination out in the cold. Yet, in this act where you get performers like Vernon Philander, Morne Morkel, Dale Steyn, Imran Thahir, James Pattinson, Ben Hilfenhaus, PM Siddle, James Anderson, Stuart Broad, Tim Bresnan, Chris Tremlett, Graeme Swann, Saeed Ajmal and Umar Gul, the Lankan pair drops a bit short.
Welagedera in spite of exposure for several seasons is yet to concentrate and keep stubbornly to the corridor of uncertainty of the batsmen while Herath needs some one to keep the other end tight and tidy to get his act together. We see here the Lankan batting order in Test cricket is good, but, they must keep playing as a unit. In bowling the department under Jerome Jayaratne must see to what wrong the physical aspect of the Lankan bowlers as frequent breakdowns disarranges the rhythm of a team.
At the same time the Lankan fast bowling coach Champaka Ramanayake must take a cane to his hand and get his seamers to learn to bowl in the right avenues and to the set field. Sri Lankan cricket did not die with the end of the Muralitharan-Vaas spell. It needed only a few adjustments with a good and focused captain.
They must remember without a performing cricket team the Lankan Cricket coffer will never be full again.