Sri Lankan businesses should step up their investments and shouldn't wait for foreigners to do it first, the Central Bank (CB) chief. "We mustn't wait for foreigners to come. They will come, but they'll do so after us," Ajith Nivard Cabraal, Governor CB said, addressing an eminent gathering at a seminar on the role of the business community in reconciliation at the Kadirgamar Institute on Tuesday. He was delivering the keynote on "The National Conference on the Role of the Business Community in Reconciliation".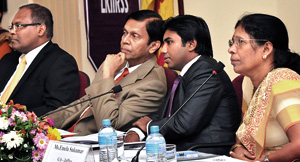 Seen from left - Prof Rohan Gunaratne, CB Governor Ajith Nivard Cabraal, Kadirgamar Institute Executive Director Asanga Abeygoonasekera and Jaffna GA Imenda Sukumar. Pic by Mangala Weerasekera
He added that Sri Lankan businesses have contributed appreciably to the reconciliation process by investing in the country's Northern and Eastern provinces. "We saw more than 60,000 loans granted to businesses in these areas, which show that businesses ae starting," he said, adding that the members of the business community and experts on reconciliation should contribute to the national reconciliation process.
Professor Rohan Gunaratna from the International Centre for Political Violence and Terrorism Research, Singapore said that the private sector, rightly touted as the "engine for growth", can make a vital contribution to the national reconciliation process by providing commercial investment in areas that were affected by the conflict, and thereby bring in 'economic multipliers' to such underdeveloped areas which provide momentum for future development. "This could be distribution networks, financing mechanisms, access to markets, and training and human resource development."
Other speakers also said that organizations can also employ conflict - affected people, including former combatants, enabling social re-integration of such individuals and contribute to their economic well-being, which is an essential social re-integration of such individuals. They also said that collaboration with the government and NGOs may allow a balance between business and development objectives, while the government can provide the right combination of incentives to encourage private sector investment. Additionally, it is indeed in the long-term interest of the private sector to achieve a sustainable peace in Sri Lanka, and a strategic partnership can be forged between the government, private sector and community organizations for post-conflict reconciliation and reconstruction.
Imelda Sukumar, GA, Jaffna noted that businesses can also play a crucial role in pursuing sustainable development by investing in local communities and industries, supporting local education, health, and enterprise development programs, and funding activities that promote education, diversity, and tolerance. The first step in this path is attaining peace. Permanent peace can truly be brought about if all members of a society embrace and sustain it. The reconciliation process should lead to political, social, psychological, and economic fulfillment. Thus, reconciliation cannot be achieved by the directives of the state alone, she said.