Rahul Masakorala, aged 13 was conferred with a diploma in Graphic Design by the INGRIN Institute of Printing and Graphics, at the recently concluded annual award ceremony of the institute. Among the 600 recipients of certificates, diplomas and higher diplomas, Rahul Masakorala was the youngest student of INGRIN Institute to receive the diploma in Graphic Design with a distinction pass.
He was also the gold medal winner for the certificate course in Graphic Design which he concluded when he was 12 years of age. Rahul who is a year 9 student of Gateway College Colombo joined the institute at the young age of 11 and he topped the batch in his first certificate course, which allowed the institute to offer himthe chance to sit for the diploma.
Rahul who represents the school's athletics team has indicated that he would pursue to develop a career path in graphics/animation, and his dream is to work at "Dreamworks" in the USA and hopes one day he will get a scholarship to do so. But his first intention is to do his O/Levels and A/Levels at Gateway College, his family said.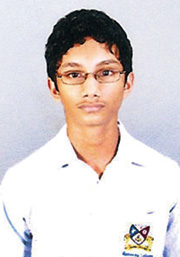 Rahul Masakorala