The Annual Edexcel Awards Ceremony saw an outstanding performance this year by students of Stafford International School, with two awards for the island best results.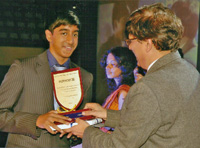 Kavjith Durairaj of Stafford International School receiving The Edexcel Award for June 2011Best International G.C.S.E Results (Based On Highest Average)

SachinParathalingam- Highest average at Edexcel GCE O/L June 2010
Kavjit Durairaj- Highest average at Edexcel IGCSE June 2011
These accomplishments were accompanied by several world subject prizes for SIS. Current Head Prefect Sachin Parathalingam obtained the 1st place in the world for biology and 2nd place in the world for Human Bio, along with best GCE O/L results for 10 A's. He is currently doing his 2nd year A levels, having completed his A/S with 5 A grade passes.
Kavjit Dulairaj obtained 7 A's for his June IGCSE O/L exams and at present is pursuing a degree for his higher education in India. In keeping with the Stafford International School culture, this year's results have been excellent.
In addition to the above, subject prizes won by SIS students include,
1st in the world
GCE O/L Biology – Shavinthi Wadanamby

GCE O/L Mathematics – Asmara Agus

GCE O/L Geography – Asmara Agus

IGCSE Busines Studies – Taryana Odayar

IGCSE Human Biology – Taryana Odayar
3rd in the world
O/L Physics – Deborah Krishnapillai
Daniel Krishnapillai who obtained 5 A* grades at the June 2011 Edexcel GCE advanced level was placed 4th in the world in further mathematics and also obtained the best GCE A/L results at this examination.