Some of the jail guards at the Welikada New Magazine remand prison helped inmates to damage the premises and set fire to buildings in Tuesday's riot which left 26 prisoners and four guards injured, an investigation has revealed.
Prison and Reforms Minister Chandrasiri Gajadeera told the Sunday Times that initial investigations show that the prisoners were able to advance to an area close to the office of the Superintendent of Prisons, indicating inside support from the guards.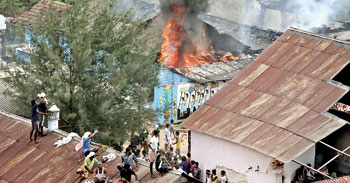 Scene's from Tuesday's riot. Pix by M.A.Pushpakumara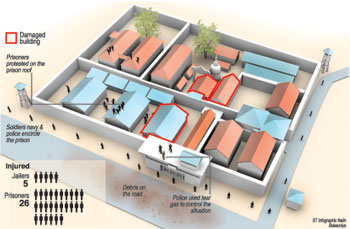 "They had come right up to the entrance and even tried to break open the door," Mr Gajadeera said.
Damage to the building including the record room, stores, laundry, medical room and main ward of the prison, has been estimated at Rs. 4.7 million.
Some of the prisoners had reportedly broken into the pharmacy and taken an overdose of tablets usually given to drug addicts, that usually results in a dazed state."As an initial step we are looking at reducing the numbers in the prison. Currently there are 1,800 remand prisoners. We hope to transfer them to other prisons. At least 180 of the LTTE suspects too were transferred," he said.
Commenting on other measures to be taken to prevent such incidents, the minister said the team that carries out sporadic raids has been brought under the Ministry with immediate effect to prevent any prior leak of information regarding impending raids.
"We will also make use of more advanced technology to monitor the prisons and prevent drug trafficking," he said. He said they would also limit the service period of prison guards to one year, excluding those of exceptionally good officers.
The clashes at the Welikada prison broke out around 11.30 a.m. on Tuesday with a group of inmates hurling bricks and stones on to the main road and the watch towers. As the riot broke out only 11 officers were on duty to oversee 1,800 prisoners, the Sunday Times learns. Many of the guards were involved in other duties, including courts duty.
The inmates had first entered the administrative building, removed the tiles and damaged the equipment before setting fire to the files. They had then stormed the stores and the laundry, setting fire to both places.
"The fire brigade too was prevented from entering the premises with stones being pelted at them," a senior prison officer told the Sunday Times. The army, navy and police were later called in and tear gas was used to quell the riot and prevent prisoners escaping.