A hat-trick from N. Nifras launched hosts Hameed Al Husseinie College to an emphatic 6-0 victory over Thurstan College in their Inter- School Invitational School Futsal tournament, getting their campaign off to a perfect start, during competition at the Sugathadasa Stadium yesterday.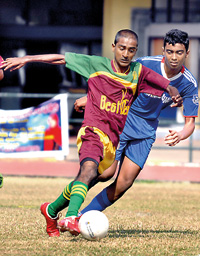 A hapless Thurstan defender looks on as his Hameed Al Husseinie counterpart brushes past him. Pic by Amila Prabodha.
Although pivotal with his four exquisite goals, Nifras did not operate alone and received ample support from his teammates, in particular S. Sadiq who pilfered two goals for the Hammed Al Husseinie cause. Thurstan were simply outmatched throughout the entirety of the match, the superior ball control and incisive passes from their opponents proving too much for their lackluster defence.
Hameed Al Husseinie, the runners-up of last year's tournament, went at Thurstan right off the blocks, testing their goalie Nipun Gajanayaka with stinging strikes at goal. It took only four minutes before they reaped dividends from this constant threat; Nifras latching onto the ball after a series of textbook short passes, to whip home the game's opening goal.
Two minutes later he was celebrating another goal, courtesy of a brilliant close-ranged bullet strike. By this time Thurstan were thoroughly deflated, and could only look on helplessly as the boys from Hameed Al Husseinie dribbled and slalomed their way past them. This considered, it was only a matter of time before the scorers were called into action once again, and Sadiq obliged, darting in front of goal to slam home Hameed Al Husseinie's third.
By the time the second half came around, the encounter was a sealed deal, and all that Thurstan could try to do was salvage some respectability to scoreline. However, scintillating goals from Nifras and Sadiq ensured that they failed miserably at this task. Hameed Al Husseinie along with 16 other schools will once again take to the field today at 4.45pm, as the Hameed Al Husseinie Inter-School Invitational Futsal Tournament reaches what is sure to be an exciting conclusion.