When the Sunday Times was looking for a cricket columnist a few years back Ranil Abeynaike volunteered to undertake this task. His connection with the Sunday Times lasted for quite a spell. His expert comments on the game as well as his candid views were well received by our readers.
He was an internationally reputed cricket commentator. He passed away at the age of 57 on February 21, due to a heart attack.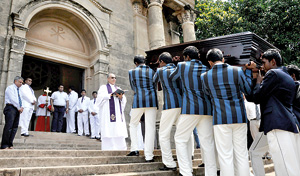 The Thomian cricketers taking the remains of Ranil Abeynaike to the college chapel. Pic by Amila Prabodha
Ranil played cricket and hockey for S. Thomas' Mt. Lavinia. He hailed from a sporting family. His father, late Orville Abeynaike played for S. Thomas' College, in 1941 and was later the Sub Warden of S. Thomas'. Ranil played for three years for S. Thomas' from 1971-1973 and captained the side in 1973. He was an excellent left-arm leg spinner and a fine all-round cricketer.
The Abeynaikes and S. Thomas' College were part and parcel at one time. Both father and son were left-arm leg-spinners and father and son coached cricket teams of S. Thomas' in later years. Ranil also captained the S. Thomas' hockey team.
Ranil commenced playing for the college under 12 team, at the age of 9. He captained the under 14 and under16 teams and went on to captain the S. Thomas First XI. In the Royal-Thomian Big Match as the skipper, he had a Match-Bag of 6 for 108.
After leaving school, Ranil represented SSC with distinction, later he turned out for Sri Lanka in first class cricket. It was a period that Sri Lanka had not entered the Test scene. He excelled as a dependable all-rounder playing Professional Cricket in England and Australia. He underwent cricket coaching courses successfully and learnt the art of preparing, Turf wickets.
He served as a curator of SSC. In appreciation of his services to cricket he served a few years as a Selector and an Interim Committee member. His contribution to cricket as a commentator was tremendous. His all-round knowledge on cricket made him a legendary commentator.
The last commentary that Ranil did was the World Cup 2011 in Sri Lanka and India. As an International commentator he was on par or better with world class cricket commentators such as Tony Greig, Sir Ian Botham, Michael Holding, Ravi Shastri, Sanjay Manjerekar, Ian and Greg Chappell, Boycott to name a few.
Ranil Abeynaike's demise was not only a great loss to his family members, but an irreparable loss to the cricket community of this island. His funeral took place on Friday at the General Cemetery. Mount Lavinia after a service at the S. Thomas' Chapel. May his soul Rest In Peace. - Rangi