Perhaps the first schoolboy international to play cricket and hockey in Sri Lanka is Tony Appathurai. This fact was recounted when the former St. Benedict's and Tamil Union cricketer had a chat with the Sunday Times.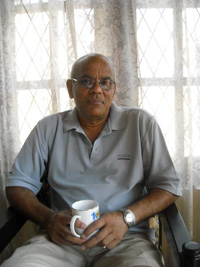 Tony Appathurai
Appathurai, now a Customs Officer in Sydney, Australia was on a brief visit to Sri Lanka. Commenting on Sri Lanka's sports set-up Tony went on to say that too many eggs have been placed in the Sri Lanka Cricket bag. "As a result other sports are neglected. There was a time in the 60s when hockey came third behind Pakistan and India. But now teams such as China, Philippines and even Bangladesh are ahead of us. We should pay more attention to other sports. Sri Lanka abounds in rugby, hockey, and athletics talents. But due to lack of attention and care these sports have languished," said Tony.
Going down memory lane Tony said that Sri Lanka should have shown their cricketing talents much earlier than 1996 when they won the World Cup under Arjuna Ranatunga. "Sri Lanka was all set to make a tour of England in 1967 but due to the fact that Dhanasiri Weerasinghe who was chairman of the selection committee in 1967 picked himself as captain for the tour the then sports minister scrapped the tour. Thus a golden opportunity to showcase our cricket went down the drain. Michael Tissera was originally ear-marked to lead that team."
Tony was full of praise for present cricketers Angelo Matthews and Dinesh Chandimal He said that our fast bowlers should go back to basics and should bowl on fresh wickets. "Our cricket administrators are a laughing stock. Cricket should be run like a business. Get rid of all those hangers-on. This is no place for dead wood," was his candid opinion. Even though Tony has been away from the country for quite some time he still keeps himself updated on Sri Lanka's sports scene – especially cricket.
His advices to off spinners are: "Take full use of the Laws of Cricket. Make use of every degree that is allowed."
He says that one of the best cricketers he has played with is Sunil Fernando, brother of Ranjit Fernando, the former Sri Lanka wicket-keeper and commentator. Sunil is now domiciled in England.
Also a lover of football Tony is sad that the game has not brought the desired results. Tony played cricket and hockey for St. Benedict's from 1965 to 1968. Some of his hockey mates were L.P. Ryan, Stanley Fernando and Brian Assey. He was a regular in the Old Bens hockey team which held sway in local competitions then. He also turned out for Tamil Union in Sara Trophy cricket for four years from 1969 to 1970 and was picked for the Sri Lanka President's XI tour of Hyderabad and for the annual Gopalan Trophy games. He has also represented the President's XI against a Malaysian team. He has toured with the Mercantile Cricket Association team under Michael Tissera to India. He migrated to Australia in 1973.