The price of smart phones available in the Sri Lankan market will likely fall further, from its current price floor of around Rs. 10,000, to about Rs. 5,000, by the end of 2012, according to Dumindra Ratnayake, the Chief Executive of the local mobile unit of UAE-based Telco Etisalat.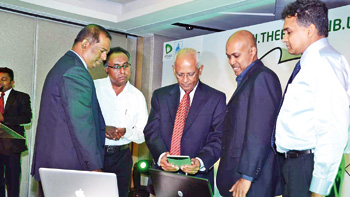 Secretary to the President Lalith Weeratunge (centre) launches Sri Lanka's e-book store. From left - Etisalat CEO Dumindra Rathnayake, Prof Sarath Wijesuriya, Microimage CEO Harsha Purasinghe and Managing Director, M.D. Gunasena Ltd - Rajiv Gunasena. Pic By Mangala Weerasekera
He made this comment at the recent launch of the Sri Lanka-based online eBook bookstore, thebookhub.lk, an initiative by the mobile network in conjunction with local publisher M.D. Gunasena and mobile application (app) developer Microimage.
In the meantime, thebookhub.lk will offer free-of-charge access to 15 eBooks for a week following its Monday, March 26, 2012, launch, according to Harsha Purasinghe, Chief Executive of Microimage. EBooks are currently available in Sinhala and English but there are plans to also introduce Tamil books, newspapers, magazines, etc. and even eBooks with built-in animation. Further, Mr. Purasinghe also noted that the mobile app for this platform, which offers "epub" (open standard) files for download for a fee payable either online, via a credit card, or with an Etisalat preloaded card, is currently available for the Android Operating System (OS). Additionally emerging, in the next few days, the app will also be downloadable via Windows and, by the end of April 2012, at Apple's iPhone and iPad-oriented App Store.
At the same time, it was also revealed that, while there were only 25 eBooks currently available on-site, there would be 100 books available in a month. Also indicated, workshops would be conducted for publishers to advise them on the best methods to incorporate digital eBooks publishing into their processes so as to ensure even more books come to market soon. Meanwhile, again according to Mr. Ratnayake, this foray into digital publishing will not only help make Sri Lankan literature easier to preserve, distribute and read but it will also take it to a more global audience, and, as such, will most benefit local authors.
He also noted that this locally launched site would also allow publishers and authors the ability to finally host their eBooks online, something they have not been able to do thus far because of the high cost of hosting these digital copies on international eBook hosting sites.
Also speaking at the event, Presidential Secretary Lalith Weeratunga commented that, thanks to government programmes, there were 550 new rural libraries opened to date. On the other hand, he suggested that people were being overly influenced by perceptions, stating that, over the last 20 years, over 500 small rural schools have been closed because parents have taken their children out of them in the mistaken belief that they would benefit more from being enrolled at better known schools.
However, he also noted that Sri Lanka's IT literacy was currently at 38% and the country was on the right track to increase this percentage to 75% by 2016, a stated government goal. He also indicated that 3,200 local schools now had computer labs, each with at least 15 computers. In addition, he also opined that, with the world expanding so fast, children had to go beyond schools to educate themselves and, as such, the Internet was an important resource in this regard.