The Citizens Development Business Finance PLC (CDB) has donated an IT lab to the Welioya Ethawatunuwewa Vidyalaya in the Anuradhapura district under its CSR project - 'CDB Pariganaka Piyasa'.
The lab was opened at a ceremony presided over by CDB's Executive Director / Chief Credit Officer Sasindra Munasinghe, senior officials of CDB, Principal N.W. Ramanayake, students, parents and well-wishers in Ethawatunuwewa.
The lab accommodates 12 students at a time and is equipped with HP branded computers, LCD monitors, printer, scanner, Internet facilities and the required furniture. Thanking the CDB for this donation, Principal of the school, N.W. Ramanayake said that although education today is being driven by technology, his school's children were deprived of these facilities for a long time. "This gift will undoubtedly help develop IT literacy among our children and thereby help them to respond to challenges confidently. Not only is this a blessing to our school, but also to our entire community."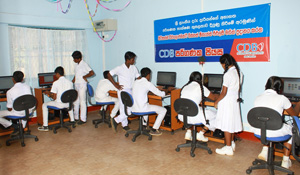 Picture shows students in their new IT lab.