With England captain Andrew Strauss' future as the leader of the world's best Test team hanging in the shade after its fourth successive defeat many an English supporter and of course the team will push hard for a much anticipated win when their second match against Sri Lanka begins this Tuesday (3). In addition to his captaincy, Strauss has come under severe pressure for his poor form with the bat as an opener. But fast-bowler Steven Finn defended his leader saying Strauss needs a bit of time to make a comeback.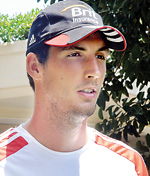 Steven Finn
"Andrew Strauss as a skipper has been an exceptional performer for England for a very long period of time. He is undoubtedly the most experienced player in the team and he is our captain. At the same time he averages over 42 in Test cricket, so you can't argue with those stats and records. Everyone goes through tough times in their career, and Strauss has showed that he's got the strength to come through strongly. So I don't think it's a question of him losing form or whatever. He just needs to get some runs on the board and I'm sure he is just as keen to bounce back any moment," Finn told reporters in Colombo yesterday.
England have not yet finalised their playing XI for the second Test which will begin at the P. Sara Oval on Tuesday. Finn hinted that England will play a pace-packed team. He went on to say that conditions would be testing for their seam bowlers and hoped that England could put an end to their Test win draught.
"But that's the way it goes and we like challenges. We have to find ways to score runs and take wickets. Hopefully we can make the best out of our efforts to win the Test match this week. Yes, we have lost four Test matches in winter but we have been in positions at three of them to push on for a win. We are not totally out. We can't become a bad team overnight. We got to be the No.1 Test team in the world for a reason. And we just have to keep the belief. Things over the past two or three years have gone our way and we realise that it has come back around. We just try to play good cricket and we try to be as consistent as we can."