While many have a preconceived notion of what the pitch at the Galle International Cricket Stadium can offer, Sri Lanka's first Test venue, the P. Sara Oval in Colombo has produced varied pitches. At Galle, Sri Lanka recorded a 75-run win with well over a day to spare in the first Test but the second Test at the Oval according to its curator will see the full five days being utilised. The curator at the P. Sara Oval, N.S. Silva, or Saman as he is more commonly known within cricketing circles in Sri Lanka usually works along with the national curator of Sri Lanka Cricket for international games.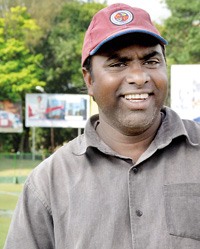 N.S. Silva. (Pic by Ranjith Perera)
"The track has been already selected for the second Test. But nothing has been finalised yet on the wicket as it is still being worked on. However, we can assure that the wicket will provide the full five days of play," Saman told the Sunday Times.
The P. Sara Oval which has a cricketing history of 113 years has hosted 15 Test matches since Sri Lanka first played officially in February 1982. Only four games have ended in draws while 11 Tests have seen outcomes, but in contrasting circumstances. Sri Lanka has won seven Tests while drawing four – against Pakistan, India, South Africa and New Zealand respectively. The venue has hosted a Test between Australia and Pakistan in 2002 in which the former walked away winners by a thrilling 41 runs. Sri Lanka lost three games, including their inaugural Test against England by 7 wickets in 1982 and after 12 years to Pakistan by 301 runs and the last Test played at the venue, against India, by 5 wickets in 2010.
The hosts' upcoming Test against England which begins on Tuesday (3) will certainly be a crucial encounter for both teams. Sri Lanka will expect to record a win, aiming for a series whitewash while England will bank on a win to level the two-match series 1-1. In comparison to the track at Galle where spinners had the final say, the track at the P. Sara Oval is tipped to favour the batsmen most of the days, according to the pitch expert Saman.
"For bowlers it will be a 50-50 chance on spin and pace. In contrast to Galle, at Oval we can expect regular changes, after each day. The first couple of days should favour the fast bowlers while from the third day the ball will look to turn. But it will be a good pitch to bat on for all five days. If it rains, which is highly unpredictable, the ball will swing a bit in the early hours but not later in the day. Overall the outfield is really fast, which makes the batsmen go for runs," Saman, who is familiar with the Oval tracks prepared over the past nine years said.