The Sri Lankan government is considering setting up a tea hub or blending centre in the island aimed at garnering more business and to keep in line with global trends but the proposal is being opposed on the grounds that the country should pursue a single-origin tea as a "Pure Ceylon" product.
Minister of Plantation Industries Mahinda Samarasinghe says he has sought the advice of the Tea Council, an advisory body, to arrive at a consensus on this issue. The tea hub has also been proposed in the "Mahinda Chintana" policy.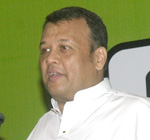 Mahinda Samarasinghe
There are divergent views on this matter and no decision has been taken as yet to set up a tea hub. However the process of consultation, compromise and consensus is continuing, he said. He added that the council was set up by him to seek advice on policy matters pertaining to the industry and includes eminent members of the industry, allowing them to make suggestions and representations on behalf of the industry stake holders.
Recently the council confronted some issues with the sudden resignation of its chairman, Merril J. Fernando who is opposed to the proposal of allowing more tea, blending and packing them locally and re-exporting, official sources said.
Mr Fernando, Chairman of the MJF Group, owners of the world renowned, single origin Pure Ceylon tea brand Dilmah, tendered his resignation to the minister alleging that some members of the council who met the minister after a tea council meeting recently had informed the minister they will boycott council meetings chaired by Mr Fernando as he vehemently opposes the proposal to permit free importation of cheap tea for blending and re-export. In his resignation letter to the Minister dated 30th March 2012, Mr Fernando stated," They (other members) met you (minister) after the conclusion of the late tea council meeting. They did not breathe a word about this important subject at the meeting, which is the correct forum for it. Such shameful, cowardly behaviour by senior members of our tea trade truly reflects the plight of our tea trade today."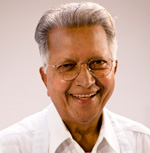 Merril J. Fernando
But Minister Samarasinghe said that Mr. Fernando tendered his resignation letter citing personal reasons. He noted that he has accepted his resignation and appointed Tyeab Akbarally, senior Vice Chairman of the council as the chairman to fill the void. Tea traders have urged Sri Lankan authorities to allow more tea imports for blending saying it could lose market share by not catering to growing consumer demand for multi-origin blended teas. They have been lobbying to allow the importation of orthodox teas for blending and value addition.
That is one school of thought. The other, proposed by Mr Fernando and others, is that Sri Lanka (like the Dilmah, single country, single origin brand) should stick to a one country, Pure Ceylon brand to make its mark globally where everyone is marketing blended teas in a competitive environment.
They argue that Sri Lanka can make a bigger impact in the market as a single origin tea and add more value rather than follow the crowd.
"This is a 10-year old debate that has never been resolved. The government should either allow the blending centre (proposal) or reject it, without dilly dallying. Either way this issue should end and Sri Lanka should get on the business of producing and selling tea," one member of the council, who declined to be named said. Neville Ratnayake, Chairman of the Sri Lanka Federation of Tea Small Holder Development Societies and also a member of the council, told the Business Times that Sri Lankan tea fetches high prices in the world market.
"Therefore we should maintain the price level without allowing it to drop as it will affect the livelihood of people in the tea industry." However he noted that tea imports from countries like Vietnam and China for blending and re-export should be done carefully and with a proper marketing strategy. He noted that the views of Mr. Merrill J Fernando, a veteran in the industry should be considered along with the proposal of tea exporters before taking a final decision on this matter.
Sri Lanka Tea Factory Owners Association Chairman Kalana Dahanayake said that his association has stressed the need of carrying out a comprehensive marketing feasibility study on importing tea for blending and re-export before arriving at a final decisio. The idea behind this move is to match buyers' requirements, but Ceylon Tea fetches a premium in the world market, he said adding that no one should allow free importation of cheap tea for blending with Pure Ceylon tea as it will affect the industry badly.
An official of the Tea Exporters Association said that Sri Lanka should be the global hub in tea trade and it has all qualifications for that. "Unless we start this effort today the industry would suffer severely. On the other hand now it is becoming attactive for Sri Lankan tea exporters to set up packing and blending facilities in Dubai," he said.
"If the authorities fail to reverse the trend by radical changes in this industry all local exporters will shift their processing facilities to Dubai because we have only 12% of Sri Lankan brands and most of our exports are shipped under dominant global brands," he said. In his letter, Mr. Fernando noted, "Whatever maybe the Minister's response to some of these tea traders demand, they must fulfill their responsibility to explain their position, in the light of his formal response to their proposal.
They owe this to the industry in general, tea smallholders in particular, and the public of Sri Lanka, since this subject received considerable one-sided publicity, based on misleading claims"
He said "in my opinion if, you (the Minister) entertain the request of the tea traders who met with you last week, apart from shielding of their obligation to respond to my objections to their proposal, it will not only be unethical but, more seriously, it will be interpreted as a declaration of your support (the Minister's) for free importation of cheap tea despite the grave impact, I have documented, that it will have on Sri Lankan tea growers, consumer awareness of Ceylon Tea and development of Sri Lankan tea brands."