'I too have a name', written and directed by Suba Sivakumaran (contact: palmyrahtalkies@gmail.com), was selected for screening under the "Shorts" category (duration: about ten minutes) at this year's Berlin film festival. Not only is the film short but, within that brevity, there are gaps of silence whose mute poignancy is heightened by beautiful shots of nature, and music that is slow and sad, hesitant and meditative. In a short story, far more is left unsaid than said. Much is excluded and what's included is only a fragment: so too, with a very short film such as this. But, as Ananda Coomaraswamy observed, the whole can be immanent in one of its parts. Short stories and short films make the reader / viewer an active participant who tries not only to fill in lacuna, background and detail but to range further and speculate about the future lying outside the work.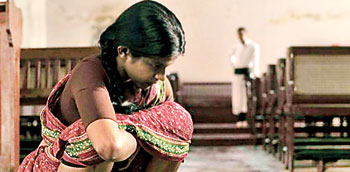 A still from the short film
The opening setting is of a church, attached to which there's a "home" for Tamil boys displaced or orphaned by the conflict. The three resident adults are a youngish Christian priest; a nun, and her grown-up daughter, Vinodhini. It transpires that the nun was raped by a soldier in Jaffna.
(Was she then already a nun, or was the taking of 'holy orders' subsequent to, and because of, that brutality?) Vinodhini is the product of a horrible deed. To borrow words from Doris Lessing, she is one of the children of violence. (Rape, despicable and destructive, is all too frequently experienced by women - even in peace time, even within marriage.)
There's an atmosphere of foreboding in the film; a sense not only of tragedy past but of violence and suffering to come in the near-future. At the film's end, while we read production detail and names, we hear the sound of boots. The marching is heavy and rhythmic; relentless and ominous. An officer accompanied by soldiers visits the "home"; announces that the resumption of war is imminent, and warns the priest to make sure that, unlike last time, some of the boys do not disappear and join the militants.
The Nun later cautions the priest that his cassock and the life it signals will not gain him protection. Outside the dormitory, two soldiers, having asked Vinodhini her name, comment that it's beautiful. The seducing compliment that she is as pretty as her name is clear, though unexpressed. The soldiers look at each other, and the viewer senses lust and danger of which Vinodhini, born of rape, is oblivious or unheeding. Young, lonely and leading a monotonous life of manual work, she is flattered and excited by the admiration and sexual desire in their eyes.
The film transcends ethnic division. It is not only the soldiers but the priest is also physically attracted to Vinodhini. We gather that, on one pretext or another, he frequently summons her: we catch a glimpse of a painting of Christ, tormented by temptation, praying for strength.
The mother tells the priest to leave Vinodhini alone but she herself is not entirely immune from inner tension. Her role in the film is acted by Nimmi Harasgama; that of Vinodhini by Subha Wijesiriwardena, and the priest by Jafir. (I must admit that a friend with a sound knowledge of, and sensitivity to, the Tamil language questions linguistic authenticity because of dissatisfaction with accent, some of the lexical items selected, and with certain syntactic structures.)
The mother says that even as God has forgotten them – a startling statement by a nun - they too must forget what has happened and move on. The thought that God has forgotten the Tamils leads to the wider subject of theodicy. One is reminded of a wryly humorous poem by Thomas Hardy with lines to the effect of: "By me created? You say now their lot is a sad one? No, I have no recollection of them". (In context, the poem's title, 'God-Forgotten', means forgotten by God.)
The film ends with Vinodhini swimming in a lake, water being associated with cleansing and renewal. Mother and daughter sit by the water; affectionate, offering support and strength to each other. But the skies darken, and the growl of thunder contradicts the Nun's advice to look forward: it is not possible to forget and move on when injustice and cruelty (and the tragedy and sorrow they bring) persist.
Wishing to know facts, the dates and sequence of events, one may turn to a history book but it is the arts (for example, literature and film) which enable us to experience something of the experience of others. One reads of "economic downturn" and sees the accompanying statistics of the unemployed; of those living "below the poverty line". But bare "facts" hide the fact that to every single individual, to every family that goes to make up the numbers, it is a personal, lived, tragedy.
Theo Halo, in writing the biography of her mother, gives us an insight into the experience and fate of the Pontic Greeks in Turkey following World War 1. Escorted by Theo Halo, after about three-quarters of a century, the aged and feeble mother travels to visit for the last time what was once "her" village, but finds no trace whatsoever that her small ethnic community had ever existed. It explains the title of Halo's book: 'Not Even My Name'. The title of this short film rejects turning human beings into impersonal, anonymous, statistics.
The film, brief in duration, sparse of means but significant in effect, affirms individual identity and value. It urges that we see and respond to the experiencing, feeling, human being behind statistics, figures and percentages– or ethnic label." It says, "Even we who are poor, obscure and victimised have identity, feelings and wishes, albeit simple. In short we too, each one of us, has a name". Seen from such a perspective, the answer to the question, "What's in a name?" (Shakespeare's 'Romeo and Juliet') is "Much, very much".