Stephen Ellis who has been with the Associated Board of the Royal Schools of Music (ABRSM) since 1996, touched down in our island on March 10 to conduct examinations for the Royal Schools of Music here. Stephen's competency in the field of music is remarkable as he holds the LRAM, ARCM, LGSM diplomas and a Postgraduate Certificate in Education from the Bristol University, not forgetting his main degree GRSM (Hons).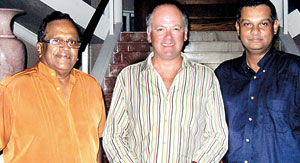 Mano Chanmugam, Stephen Ellis and Neomal de Alwis
The man himself is a vibrant, friendly personality who enjoys travelling the world on ABRSM work. He believes that, as a leading innovator, the Board has created lasting impressions in the musical world and simultaneously worked towards the development of music in society in over 90 countries worldwide. Stephen has travelled widely in Asia, Africa, Europe, Australasia and the Far East and feels that, in the final analysis, it is people who make the difference. He is looking forward to Iceland, his next destination. Examining is not his only forte, performing, teaching, adjudicating, are just some of the few other areas Stephen is involved in.
The ABRSM presence has been in Sri Lanka since 1898 and is one of the oldest together with South Africa and New Zealand.
Stephen's observation of Sri Lanka is that the students all seem to be very well prepared for their respective exams and exude an amazing sense of wanting to be involved – some may be nervous but they all seem so excited to be there. Stephen has sensed this warmth and excitement and is equally happy to be around them. He thinks they display a lot of enthusiasm, integrity and evident enjoyment which, after all, is what music is all about. Commenting on their dress sense, he reckons that the examination seems to bring about a sense of occasion for them, for which they are immaculately groomed and turned out.
Stephen has immense praise for the teachers here. He says they are all very enthusiastic, open to discussions on how to improve their work and it seems there is more to it than merely cataloguing different music to be deployed throughout the examinations
It goes without saying that the efficiency and dedication of the local representative of the ABRSM, Mano Chanmugam together with the very capable Neomal de Alwis, Assistant Representative of the ABRSM, and Pam de Alwis, Co-ordinating Secretary, ensures the build up to the exams is clearly and precisely orchestrated.
Music has the ability to affect people in profoundly positive ways and the redoubtable Stephen Ellis makes a positive impact on the Sri Lankan music scene.